Everything of mine in this thread is free to use (unless noted otherwise). Credit for items used is appreciated, though.
(You can credit me either as Lord Glenn or Grefyrvos - I use both monikers online.)
Working on new stuff (slowlyyyy) and figured that, since I'm going to be posting that stuff up for anyone to use (once I finish them or at least chunk-able sections), might as well lump everything of mine that falls into that category in one place.
UI Elements: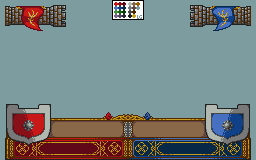 I posted this original creation for one of the graphics blitzes, but I never saw if it was able to be turned into something insertable into an actual ROM. It's still open and available for anyone to have dibs on attempting to - if it turns out that it's over the tile limit and you've attempted to make it work, give me a ping and I'll see what I can do to modify it once I know how much I would need to tone it down by. It might take me a little while since I usually only sprite 1-2 times a week (at most - some weeks I don't do any at all), but I'll endeavor to make it work.
Old Jugdral-themed Stat Frame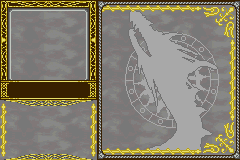 Again, this was posted to one of the blitzes - an old stat frame that I whipped up for a hack that was cancelled which was bringing in elements of FE4/5. I'm working on a spiritual successor of sorts to this, applying what skills and such I've learned in the years since I made this to make a new one (which is still a work in progress but will eventually be posted).
FE10-Style Affinity and Weapon Level Icons (unsure of compatibility with Horse/Pegasus/Wyvern indicators)
These are pretty old (and I have something in the works that will effectively replace them (but, again, slow progress on all of my works)), but if you have a hankering for UI elements based on FE10, this would be for you.
Originally made for an old revision for MageKnight404's A Sacred Dawn, back when he was still making it. As noted above, since I think I changed the palette on these from the default, the Horse/Pegasus/Wyvern icons that appear in the stat screen near the Aid stat might get messed up - you should be able to just do a quick edit of those icons to make sure they use the colors in this palette for them to look fine.
(As mentioned, I'm working on something that will basically replace this, otherwise I'd do the fix for those icons myself now. What I'm working on is already taking care of that for the new sheet, so no real sense to go back and do extra work on this set. :/)
FE10-style Affinity Icons + Cipher-based Weapon Level Icons
See this post for all of the details!
Old sheet of freebie Weapon Icons

(Description below shamelessly copy and pasted from the Repository topic)
(Background color legend:
Green = adaptation of existing FE weapons/icons (mostly FE9/10 stuff, but some come from other games)
Yellow = icons made for Arch for Elibean Nights (that are completely new and not versions of things like the Rusty Coin) that he has allowed to be free to use
Blue = icons that I've done over the years either for myself or defunct projects (some of which may have been appropriated by Arch or other projects since)
)
(Aug 16, 2018 - I updated a couple of the icons on this sheet the other day when I was fiddling around, nothing really major outside of the Bronze Axe, which got a heavier refurbishing.)
FE Heroes Book 1 Weapon Icons

I modified these after I posted the previous revision of them in the Icon Repository, but these are the up-to-date versions of all five. Can't guarantee I'll do any of the other unique weapons Heroes has added since I stopped caring about it like a year ago, but it's a minor possibility. I know some of them seemed like things I might want to tackle, but it's going to be a "when I'm in the mindset and have the urge to sprite them" kind of thing.
Also, I've included palette circles of my new background color (easier on the eyes) as well as the standard light pastel green that the image straight from the ROM uses in the bottom corner so that it's just a matter of swapping the colors if you want to insert a specific icon into a ROM.
Shadow Dragon "Regalia"/unique Item Icons

Seeing @Kirb's newest screens for GFE1R inspired me to get off of my duff and finish this set… well, almost finish. Aum can screw itself for the time being - I'll finish it later (probably either next Friday or Saturday, assuming I'm motivated). (Doing 7 icons plus fixes on others in the span of 2 days kinda took it out of me.) (I went over the Shadow Dragon item pages and I think that's everything that falls under the Regalia/unique category of note, barring the extra addition of the Broadsword for Ogma (which is an icon that I have had completed for a while now and it could easily be fit in as something Caeda got for him).)
(EDIT 11/3/18 - Added a new variant of Starlight.)
< Rapier, Broadsword (Ogma), Mercurius, Falchion, Wing Spear, Gradivus, Hauteclere, Parthia, Excalibur, Aura, Imhullu (Based on the old TCG art, the FE World art minus the lock binding the tome, and the FE World art with the lock added on, respectively), Starlight (Based on the old TCG art, the FE World art, and one of Linde's Cipher arts, respectively)
< (Aum when it's finished), Firestone, Earthstone, Magestone, Divinestone, Fire Emblem, Lightsphere, Starsphere, Geosphere
NEW!! (8/16/18) Genealogy of the Holy War "Regalia"/unique Item Icons

See this post for more details!
< Lustrous Sword (Sigurd's Silver Sword), Balmung, Mystletainn, Tyrfing, Gáe Bolg, Gungnir, Helswath, Yewfelle
< Valflame, Mjölnir, Forseti, Naga, Loptous, Valkyrie, Deirdre's Circlet
Maps: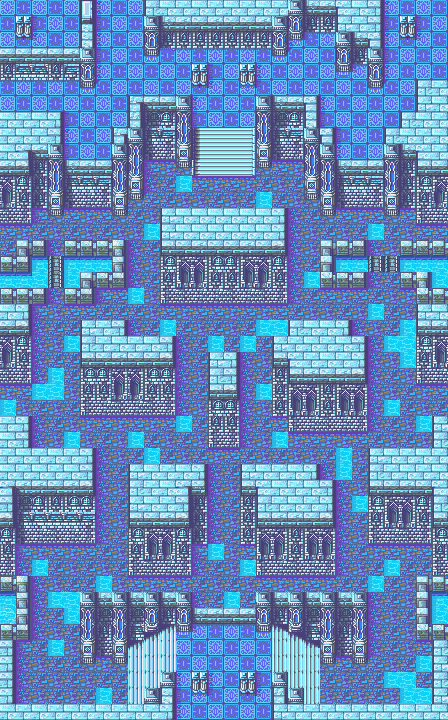 Made for a blitz, now with added waterless version (if the water was a turn off / why you wouldn't want to use it)! The ZIP includes the tileset (with its modified palette), TMX files for both versions, as well as the PNG screenshots for both versions: https://www.dropbox.com/s/nlv90f0cc0bvm3d/LordGlenn_FE8_1800191A_Cistern_Reg_Waterless.zip?dl=0
Update Log:
May 18, 2018: Posted topic, Shadow Dragon Regalia/Unique Icons are new.
June 16, 2018: Radiant Dawn-style Affinity Icon update & Cipher-based Weapon Level Icons are new.
August 16, 2018: Genealogy of the Holy War Regalia/Unique Icons are new, made a note about a minor update to the "Old sheet of freebie Weapon Icons" bullet point.