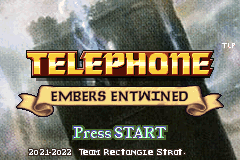 When the flame of ambition alights, the ash from its pyre will smother all…
Petra is a princess in exile, on the run from dark forces with darker machinations. She and her companions, fleeing from their pursuers, enlist the aid of Diego and his mercenary band. However, all is not as it seems, and as the two uncover the truth of Diego's bloodline, they'll find that their fates have become inextricably entwined. They must stand and fight… but how do you fight a foe who doesn't quite stay dead?
---
Embers Entwined is a project inspired by Call of the Armor, developed in the same "telephone" fashion by us at Team Rectangle Strategy. This means that every chapter was developed linearly by a different person, one after another, with no planning beforehand. We began development in mid 2021, and are extremely excited to be finally releasing this project to the public!
Features include:
21 Chapters!
49 playable characters, from classes you know and love to wacky, more experimental units!
A wild plot with heaps of melodrama, twists, and reveals!
New items, classes, QoL fixes, and more!
Download it here!
Screenshots










Credits
Known Issues

A certain unit's stats can break caps if they have a stat in their current class that's higher than the cap in the class they transform into.
This same unit keeping their weapon ranks after transforming.
Opening the door with the two green units in E-2 with an unlock staff will bug out the event at first, but then it'll return to normal.
Want to share your thoughts with the team? Join us in the discord!
And also, check out the tier list maker! (spoilers!!!)