Screen gallery
PROJECT DISCORD: https://discord.gg/Z8EwVyp
What is this?
GFE1R, or Generic FE1 Remake, is a remake of the first Fire Emblem, Shadow Dragon and the Blade of light, aiming to give the game more of a gba feeling. it also features a working tactician system(Screenshots coming later), A halfbody system, skills, and in the future a game modifiers screen which will allow you to modify your game experience(example: making the classes randomized.)
If I want to make a halfbody, how do I make it conform to the format, and how do I submit it?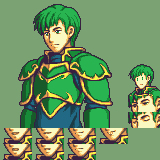 First of all, here is the halfbody hackbox, and an example mug. it is very similar to the normal hackbox, except the yellowgreen-ish part of the hackbox is for the second palette. the body part is allowed to have a second 16 colors(15+bg) palette, for convenience.
as for how to submit a halfbody, either post it here on the thread when completed, or join the discord and post it there. posting on both is reccomended, though, and the discord has a sheet with all completed/claimed halfbodies, so two persons don't end up working on the same character.