Hello, everyone! Welcome to me sharing what I've got so far in my first hack, Fire Emblem: Three Legacies! (Or just Fire Emblem: Three Houses 2.) Set primarily as a sequel to a theoretical golden ending of Three Houses, but also expanding to other FE settings (specifically Archanea and the Fates setting) as the story goes on, it's planned to be a rather large game – it's currently complete up to and including Chapter 21x so far on one of the two routes, with plans for the total game to go up to about chapter 30-ish. There is a route split between two of the main lords after chapter 10 that merges back together after chapter 19, but so far I've only finished Alexander's side of the route split, wile Elys's side only goes up to chapter 13x.
Story Intro

The story begins in the unified nation of Fodlan, 20 years after a great war in which the Four Heroes – Edelgard, Dimitri, Claude, and Yuri – defeated the forces of the ancient underground civilization of Agartha and their villainous High Priest, Thales. Fodlan has been unified under Emperor Edelgard, and has since slowly rebuilt itself from the war's devastation while undergoing governmental reforms. A new generation of students comes to attend the Officers Academy, led by Elys Agastyn, Alexander Kleiman, and Ashley von Riegan. The future looks promising. But peace remains all too fragile…

Across the sea to the west, the continent of Dagda, once split between the nations of Hoshido and Nohr. It is a land of honorable warriors. Its young king, Mizukai, seeks to forge a lasting peace with Fodlan. But his generals, renowned veterans of past wars, don't share his views…

To the southeast, Archanea. There, an ancient darkness has begun to take root in the mage city of Morfis, built atop the ruins of ancient Thabes…

Each continent's history is stained with blood. The shadows of the past linger. And now, one vengeant soul seeks to set the world ablaze…
The game features a fairly large cast of mostly new and some returning characters, starring a new generation of Officers Academy students including descendants of members of the original Three Houses cast. Obviously, some things will be clearer if you've played 3H, and there will be spoilers, but you do not have to have played 3H to play this hack.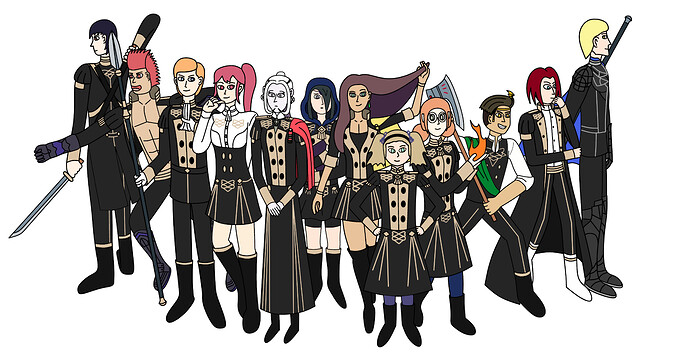 Story includes a 2-year timeskip, with timeskip redesigns for the new students. Gameplay is generally not too far off from vanilla, but aimed at a slightly higher difficulty (but not overwhelmingly so) and with some new classes and mechanics, and unit designs that I hope you'll find interesting. While made for classic mode, I have included an option to enable Casual Mode at the start of the game.
There are two difficulty modes currently available: Normal, a reduced-difficulty mode made for more casual players, and Hard, the intended difficulty targeted at more experienced FE players. There will eventually be a Lunatic Mode, but that's for later down the line.
FE8-based, download the UPS patch here:
Once you've got the patch, apply it to a clean, totally-legally-aquired FE8 ROM (US version) with a patching program like NUPS or the patching function of FEBuilderGBA. See here if you're struggling with patching: How to Patch a Rom v5
The hack supports FEBuilderGBA's update and automatic feedback functions. To use it, download this text file, place it in the same folder as your ROM, and open the ROM in FEBuilder: fe3h2_beta.updateinfo.txt - Google Drive
If you do that, you can update the patch through FEBuilder at any time by going to Run->Work Support->Update to Latest Version. If your version isn't up to date, it will download and patch the latest version for you. Additionally, when running the ROM through FEBuilder with this file, data will be automatically reported to me on unit deaths and chapter clears – this is entirely anonymous and only collects gameplay data, but it can be disabled from the Work Support menu if you'd prefer not to (or by just not running the ROM through FEBuilder).
(For the updateinfo file to work, make sure the ROM's name is fe3h2_beta.gba and the updateinfo file, named fe3h2_beta.updateinfo.txt, is in the same folder as the ROM.)
Sorry about the mismatched portrait styles. I'm currently in the middle of reworking them all to the GBA style, which will take a while.
Playtesting wanted, all feedback is welcome! You can reach me on Discord @ultraxblade or by replying to this thread if you have any questions, comments, concerns, criticisms, etc.
Background lore stuff for those curious

The Golden Ending Explained

World backstory/How it all fits together

So, the story here crosses between the settings of Three Houses, Fates, and the Archanea series. Three Houses, but with a golden ending, happened 20 years ago. Fates: Revelation (minus the existence of the Awakening characters) and Marth's games happened 1000 years ago, and Awakening is 1000 years from now (hey, wait a minute… 1000 years before Awakening and 1000 years after Shadow Dragon… does that mean…). So, how do they all fit together? It all ties back to the Divine Dragons and the ancient human civilizations of Agartha and Thabes.

Long ago, the dragon tribes coexisted with two great human civilizations: Agartha, a scientific people of advanced technology, and Thabes, which had mastered the arts of magic. Agartha and Thabes were close allies, and exchanged their great knowledge of the world, leading both civilizations to develop powerful weapons of war. The dragons came to fear them. This fear drove Duma, right hand of the Divine Dragon Queen Naga and war general of the dragon tribes, to lash out at the people of Thabes, razing the city to the ground. The people of Agartha, seeking to avenge their allies and protect themselves from the same fate, retaliated against the dragon tribes with the full force of their destructive weaponry. The dragons fought back, and the surviving Agarthans were forced into hiding deep underground.

In the aftermath, the Divine Dragon Sothis expended her power to restore life to the world, and the other remaining Divine Dragons went their separate ways. Naga remained in their home of Archanea. Duma was banished to Valentia for his actions in starting the war, and his sister Mila followed. A small group of dragons led by Anankos set off to find a land untouched by the war, and settled in what is now Dagda. Sothis fell asleep in Fodlan, watched over by her children.

The survivors of Agartha, however, would not forget the destruction of their civilization. From deep underground over many generations, they would plot their revenge on the surface world. They sent agents to the surface to instigate conflict in hopes of driving the surface world to ruin. 1000 years ago, they once more went on the offensive. Their spymaster, Iago, traveled to Dagda, using his illusion and manipulation spells to drive the weakening Anankos mad. (Just look at Iago's art. Compare him to Thales. Primarily black clothes, gold trim, red feathers around the collar, and most importantly, pale white-grey skin. He was an Agarthan.) Other agents traveled to Archanea, where they would guide the dark mage Gharnef to the ruins of Thabes. In Fodlan itself, they allied with the bandit lord Nemesis to kill Sothis in her sleep and massacre her descendants in their home of Zanado. However, these efforts ultimately failed, and multiple underground Agarthan strongholds, including their greatest city of Thinis, fell, with only Shambhala remaining. The Agarthans made one final attempt to destroy Fodlan 25 years ago, but they failed once more, and the death of High Priest Thales put an end to their villainous plans. Or so it was thought…
More Gameplay Details

On Classic Mode, when a player unit dies, their items are sent to storage (only once they've been recruited – if a recruitable character dies as an enemy or green unit, you don't get their items).

The Skill System is included, but skills are not a primary focus. Outside of a few core class skills, generic enemies will not have skills (Snipers have Bow Range +1. Bishops have Staff Range +1. Swordmasters, Berserkers, and now Assassins have Crit+15, but some enemies have had it removed. Pierce/Great Shield/Lethality have been removed.). A few playable units have personal skills, but most don't – even so, I tried to make different characters each feel distinct through their classes and stats. Bosses begin to have skills starting in Chapter 11 (and also the boss of 6x because that character eventually becomes playable). Later on in the game, you can acquire Mastery Scrolls, items that teach a class-based skill to level 10 or higher promoted units – you can find the full list of Mastery Skills in the "useful information" document in Resources below.

If there's someone on the map that you can talk to, you can see it in the stats screen of the character that initiates the conversation.

The Danger Radius and Droppable Item Marker hacks by Huichelaar and Mkol are included. Enemies that drop items have a little green "item bag" symbol marking them on the map, and in maps without Fog of War, enemy ranges can be marked to be continuously highlighted. Press Select over an individual enemy to highlight/un-highlight them, or press select over no enemies to highlight/clear all – do note that highlighting everything will often cause lag. At the start of your turn, any moving bosses and any enemies with siege weapons are automatically highlighted for you.

I've also added the Convoy Item Combination hack by Tequila, allowing you to merge uses of duplicate items by holding L while depositing them in the convoy.

You can skip battle animations by holding A or L, and you can fast-forward them by holding R.

Luck now gives 1 hit per point, instead of 0.5.

Terrain healing has been removed to prevent boss abuse.

In general, I tried to be very clear about hidden conditions, so just make sure to pay attention to the dialogue!

Because there are two dancers who are both combat-capable, dance EXP, and with it steal and summon EXP, is disabled. Bard trains are allowed!

New classes include:
Lord (Elys)/Agastya – Personal class of Elys, one of the main lords. A defensive dark mage and healer. Becomes armored and gains light magic on promotion.
Lord (Alexander)/Knight Lord – Personal class of Alexander, one of the main lords. A lance-locked cavalier with high strength.
Lord (Ashley)/Wind Lord – Personal class of Ashley, one of the main lords. A fast bow user with 6 mov, gaining the ability to use Sing to refresh allies on promotion.
Bard – Personal class of the later-joining fourth lord Mizukai, able to fight with swords and use Sing to refresh allies.
Tactician/Grandmaster – Personal class of the character Kalin, a dark magic user with the additional ability to summon a "cursor" object that can swap and reposition other units

Dark Flier – dark magic+lances, flying. Promotes from female Dark Mage
Malig Knight – dark magic+axes, flying. Promotes from Wyvern Rider
Seraph – lances+staves, flying, promotes from Pegasus Knight or Troubadour
Basara – a promoted lance infantry class with additional access to light magic. (Only playable as a prepromote.)
Engineer – a T1 class with both swords and anima magic, with generally well-balanced stats.
Guardian – swords+anima magic+staves, armored. Promotes from Engineer
Artillerist – bows+anima magic, summons Ballisticians. Promotes from Engineer

Mounted mages (Mage Knight, Valkyrie, Dark Flier, Malig Knight, Seraph) and Rangers have 7 move, while Paladins, Wyvern Lords, and Falcoknights have 8 move.

I think summoning is a cool mechanic, so there are multiple classes/characters with summoning abilities, and different ones can summon different things with different uses. The Fighter Kai has a personal skill to summon his pet monster Buddy, a Mauthe Doog. The Tactician Kalin summons a non-combatant cursor object that vanishes at end of turn, but can be used to move your other units around with Repostion and Swap. Tinker, one of the trainee units, can eventually promote into the Artillerist class with the ability to summon Ballistician constructs. And there's one other character later on who has to ability to summon Seraphs.

There are secret shops, which, if you get the Member Card, the character Anna can help you find – if she's deployed on a map with a Secret Shop and the Member Card is anywhere among your items, she'll notify you that there's a secret somewhere. Hint: Look in suspicious locations, and you can spot the secret shops by them having slightly different tiles from their surroundings.
Resources/Guides

Character details, including bases, growths, promo gains, and recruitment info, can be found here: FE3H2 Character Details - Google Docs

A more in-depth character guide can be found here: FE3H2 Unit Guide - Google Docs

Other useful information, like gaiden requirements, Mastery Skill details, secret shop locations, and other chapter-by-chapter tips/advice/warnings/etc. (hidden as highlightable white text so you can choose to look at it or not depending on how blind you want to play) can be found here: FE3H2 Useful Information - Google Docs
Playable character portraits (Warning: spoilers!)
Custom Animations

---

Unpromoted Elys (Lord)





Promoted Elys (Agastya)




Unpromoted Ashley (Lord)

Promoted Ashley (Wind Lord) - Old Design





Promoted Ashley (Wind Lord) - New Design





The Engineer class

This one, as you can probably tell, used the generic Mercenary as a base for the still sprite, but the rest, including the movements, was custom.



Female Swordmaster reskin (for planned character Ava)

Some major villains (warning: spoilers!)

Kostas (Warrior variant)

Beta (Blood Lich)

Myson (Biomancer)

Iago (Illusionist)




Drazal (Pirate King)

Shez (Fluegel)

---
Extremely outdated screenshots!











Credits can be found here: FE3H2 Credits - Google Docs
I'm pretty sure I got everything, but if you notice something I missed crediting please let me know so I can fix it!