WARNING: THE SAVE POINTS IN CHAPTERS 8 AND 19 HAVE INCONSISTENT CRASHES! IT SEEMS EMULATOR DEPENDENT, BUT IT'S STILL INCONSISTENT. BE CAREFUL WHEN USING THESE!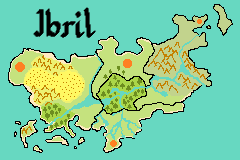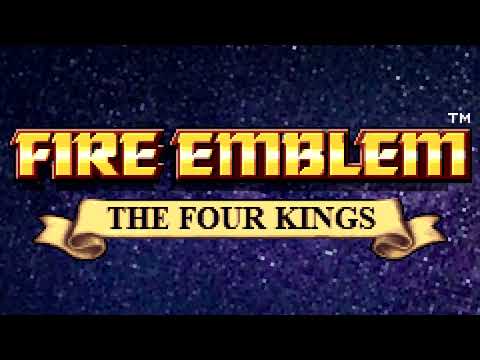 Four Kings Vanilla Patch: Updated November 4th 2021
Four Kings Reverse Recruitment Patch
Check out the short prequel hack, Four Kings: Deposition, too!
Hello and welcome! My name is KrashBoomBang, and I'm proud to release Fire Emblem: The Four Kings! I only started actually hacking and making the game in Fall of last year, but my journey to make this game started several years ago.
I frequent a community called Reddit Emblem, basically DnD but styled like FE where each player controls a unit. I was going to run my own campaign for this, with a story pretty similar to the first half of The Four Kings and featuring the same protagonists. But that fell through, so I didn't get to run that campaign. Instead, I decided to write out the entire story and then some. So one summer, I wrote a 200 page document, with the whole script for the story, plans for all the maps, units, personal weapons, supports, etc. It had everything. Sadly, I had no idea how to hack, so I shelved the project for two years. But once I learned how to use FEBuilder, I was finally able to make that project a reality. And over the course of about 9 months, The Four Kings was created!
So, what is this hack about? Well, the story centers on three brothers: Walter, Lionel, and Terril. They are the royals of the country of Askia in the land of Ibril. Terril is the current king, and he sends his brothers out on a diplomatic meeting with the king of the western nation of Behanzin. But the brothers constantly argue, and when things get rough, their relationship becomes strained even further…
Features of the hack:
40 playable characters, each with their own unique personal weapon (except Dorian the bard). Some characters even get two personal weapons, and a few bosses get personal weapons too!
29 total main story chapters!
7 post-game trial maps that expand the story!
A concurrent route split for the midgame. Your army will be divided into two fixed groups, and you'll swap between them to play different chapters. You will have a shared convoy, so don't worry about that.
Reworked supports! Every character can only get one A support, but they all have unlimited B supports. All supports build very fast, and support points build when characters are within 3 tiles of each other. In addition, affinity bonuses have been changed to give the following stats per rank. So a Fire and Ice C support gives +1 attack and defense and +5 hit to both units, for example.
Fire: 1 attack, 2.5 hit
Ice: 1 defense, 2.5 hit
Lightning: 5 crit, 2.5 hit
Wind: 5 avoid, 2.5 hit
Light: 5 hit, 0.5 attack/defense
Anima: 5 CEva, 2.5 hit, 0.5 attack/defense
Dark: 2.5 hit/crit/avoid/CEva
A fully complete and original story that is hopefully not terrible!
Tons of music tracks taken from other GBA games. Expect a lot of Sonic songs throughout the game!
There's also a lot of RED TEXT dialogue throughout the game which are meant to be gameplay hints. So pay attention to the dialogue if you want to understand how some map gimmicks will work or to know when reinforcements will show up!
Screenshots
Credits

6_tracks_12_sounds - Agro/Brendor
256 Color Tile Background Installer - Leonarth
Fix CG Fade Glitch - 7743
Set Victory BGM By Chapter - 7743
Convert Chapter Titles To Text - circleseverywhere
Actions After Support (Contemporary Style) - circleseverywhere
Actions After Talk (Contemporary Style) - circleseverywhere
CSA_Creator_For_FE8U - circleseverywhere
CSA_Creator_For_FE8U_ver2 - circleseverywhere
Map Danger Zone (Select: Toggle) - circleseverywhere
Multi-Class Pick Skill Installer - 7743
Remove Enemy Control Glitch - Brendor
Display Escape Menu - 7743
COND Check whether all members have withdrawn - https://github.com/ngmansion/FE8/tree/master/escapemap
Add Event: Character Retreat - aera
Add Event: GetSupportLevel, SetSupportLevel, ClearSupportLevel - 7743
Add Event: Simple Escape that can be easily created 20200305 - 7743, aera
ExModularSave - Stan
FE8-Battle Stats with Anims Off - Tequila
Attack and capture enemies with reduced speed like FE5(Tequila Version) - Tequila
Rogue Robbery - Tequila
Add Event: Set Unit Stat Conditions (UNCM) - Tequila
01command_hack - Hextator
48command_hack - Hextator
Anti-Huffman - Hextator
Fix dodge to front glitch - Snakey1
fix_lz77decompress - Tequila
HPBars_with_warnings - Circles
HPBars_with_warnings_cache - Circles, Tequila
HPBars_simple - Circles, Zane
Improved Sound Mixer - ipatix
Deny Deployment From Preparations Installer - aera, 7743
Magic Sword Rework(Installer) - Sme
Skip World Map Fix 20190505 - Stan
Define Multiple dancers(Battle animation effect) Installer - 7743
Setting sound effect of a many dancer in map battle (Installer) - 7743
(OLD)Change to have multiple units that can be seize.(Install) - 7743
Change to have multiple units that can be seize 20200302(Install) - 7743
(OLD)Change to have multiple units that can call supply(Install) - 7743
Change to have multiple units that can call supply 20200302(Install) - 7743
MultiTileMarker Display multiple exit markers on the map.(Installer) - 7743
Define multiple classes that can discover treasures Installer - 7743
NarrowFont - Scraiza
Remove fog from background of save menu - pikmin
Skill SkillSystems 20200411 - Circleseverywhere, Monkeybard, Black Mage, Blaze, Tequila, Rossendale, tanH, Leonarth, Teraspark, s9dk, Kao, blademaster, Snakey1, Primefusion
SOUND_NIMAP(Native Instrument Map) - circleseverywhere
SOUND_NIMAP2(Native Instrument Map) - Alusq
Stairs 20191031 - Snakey1
UnitActionRework - Stan
Weapon Lock Ex Installer - 7743

Also, tons of help with spriting, art, coding, and music for various things:
Zmr
Itranc
Serif
Blas Puga
Memestaralbert
Sphealnuke
Epicer
Psyche
Citrus
Luke
Levin
Laurent Lacroix

Important playtesters:
Chessjumpbowl
Booshka
Artorious
Here's a tier list maker for the game if you're interested in that
Also here's a spreadsheet containing everyone's base stats, growth rates, and join times!
Please feel free to leave feedback in this thread or over on my discord server. I will make bug fixes and revisions as necessary for the game, and your feedback is how I'm going to do that! In addition, know that this is not the final release of the game. I plan to add 6 trial maps into the game at a later date. These trial maps will flesh out certain plot points and give side characters more time to shine on their own adventures. But for now, I just want to release the main story and play Vision Quest.
I hope you all enjoy Fire Emblem: The Four Kings!