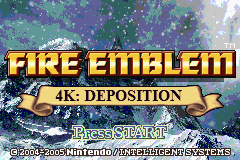 Here's something you don't see very often: a prequel to an existing hack. This is Four Kings: Deposition, a short prequel to Four Kings! This story is centered around Daltry, one of the main antagonists of Four Kings, and shows how he began and how he became the man he is in the main story. Of the three main antagonists of Four Kings, I felt that Daltry was the weakest one, since he didn't receive a lot of screentime or backstory, and his few appearances were kinda generic, so I wanted to remedy that with a new story all about him. This hack also features new characters, who will be added into the Four Kings main story in a future update, so you won't have the usual prequel issue of "where are these new characters in the original story?"
The game is built off of Four Kings as a base, and features similar gameplay. Think of this hack like a "DLC" pack to Four Kings, in the same way that Cindered Shadows relates to Three Houses. It's recommended you play Four Kings before this, for both story reasons and to have an understanding of the gameplay, but it's not totally necessary if you play on normal mode.
Other important stuff:
There are 12 playable units total (and some generics for the last two maps). All 12 characters will participate in the story, but they also all cause game overs if they die.
Consequently, this game features DSFE save points on every map as checkpoints, so use them!
Characters all start with supports, with no need to build them up. Affinity bonuses are the same as Four Kings, which are the following:
Fire: 1 attack, 2.5 hit
Ice: 1 defense, 2.5 hit
Lightning: 5 crit, 2.5 hit
Wind: 5 avoid, 2.5 hit
Light: 5 hit, 0.5 attack/defense
Anima: 5 CEva, 2.5 hit, 0.5 attack/defense
Dark: 2.5 hit/crit/avoid/CEva
There are a total of 8 chapters. Since it's a pretty short hack, every playable unit starts promoted and with high weapon ranks and good starting weapons.
Also because of the short length and very tight cast, enemy stat progression is relatively slow, so playable characters are pretty sufficient on just their base stats.
There is no money management in this hack, and thus no shops (not even a prep screen shop). All items are acquired from new units, enemy drops, or from visiting villages.
Screenshots: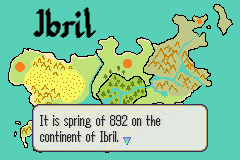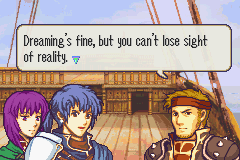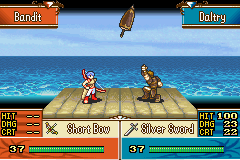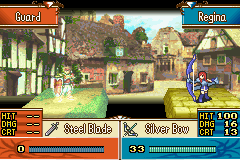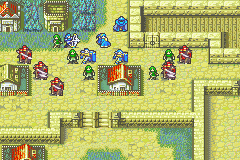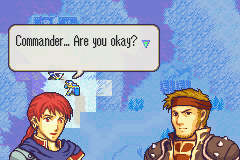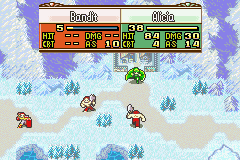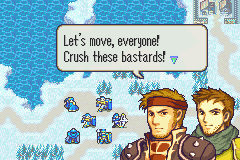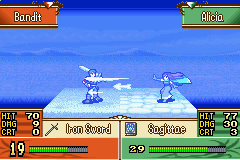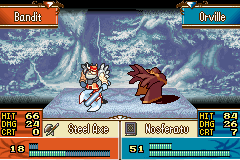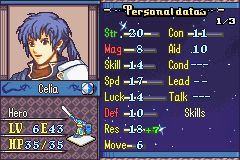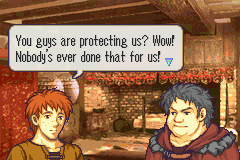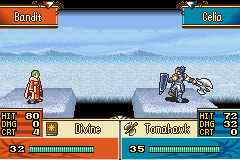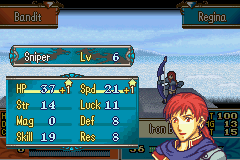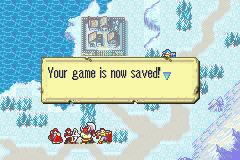 Special thanks to jellyunicorn, RubyCastel, PappySoda for helping out with some portraits, and a very special thanks to racecarart for drawing the CG image for the ending!
DOWNLOAD THE PATCH HERE! (Updated 8/10/21) Please give it a try and let me know what you think!