neco anna


no eye sparkle



sparkle


no wink


compiled ver.

guess i'm just going to repost my stuff over here:
» Supreme Samurai Ryoma (default + maskless)

» Princess Hinoka


it seems we have quite the high quality sprites this time around.
keep up the good work bois~
Even though I've already started my submission weeks ago I still fell behind dang it ;-;
but nonetheless, here's my Anna fullbody which took a almost day to finish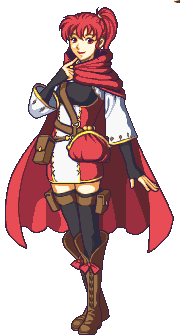 sysly y no ppl make a maid version

For those of you submitting a bunch of sprites, please also make a single Compilation Image with all your work together. Otherwise it's hours of effort for me to do that for all the entries. You can also make your entry look really fancy if you like, which might get you more votes
Edit: Also just edit them into your submission posts please
alright then~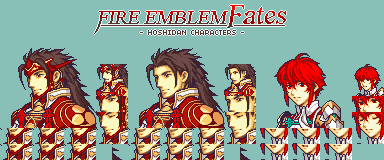 We've got a little over a week before submissions end and voting goes up!
I would like to submit this female Ryoma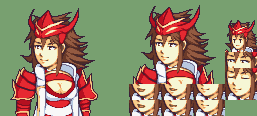 So, eh
Hinoka or something.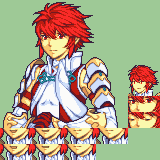 A few more Annas because why not
Pegasus Knight Anna




Shaman/Manakete Anna (+hand alt)




Ghostface/Masked Anna




Obligatory compilation image

you know, it's always all fun and games until…
here comes Anna, the most beloved FE character in all her glory, ready to help you by defeating every enemy, monster, boss, demon, god, whatever all by herself:
Smug version | Smiling version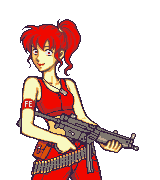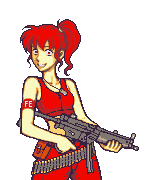 i wonder wich one is creepier? well, you decide.
anyway, last minute and last submission from me, totally not because i'm held at gun point right now ahahah…ah…
[edit] i almost forgot to put everything together, here's the updated sheet: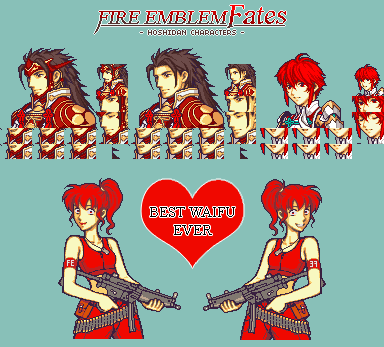 Ah, yes, a fellow Advance Wars enjoyer.
Tried recreating anna's awakening sprite.


well uh, one of them.
(why do they all have little bears btw?)
Edit: Now there are two

Welcome to the 12th round of CCC voting!
Round 1: 44 entries submitted by 21 contestants.
Round 2: 21 entries submitted by 13 contestants.
Round 3: 34 entries submitted by 14 contestants.
Round 4: 49 entries submitted by 15 contestants. The biggest round yet!
Round 5: 39 entries submitted by 13 contestants.
Round 6: 20 entries submitted by 9 contestants.
Round 7: 12 entries submitted by 7 contestants.
Round 8: 24 entries submitted by 10 contestants.
Round 9: 26 Entries submitted by 19 Contestants
Round 10: 24 Entries submitted by 10 Contestants
Round 11: 20 Entries submitted by 12 Contestants
Round 12: 25 Entries submitted by 10 Contestants
Today's vote is for your favorite Anna, Ryoma, or Hinoka! Maybe even someone submitting a bunch of them! FEU polls now shrink the preview images when they definitely didn't last year, so click/tap an image to enlarge it for a better look. I don't have a way to fix this, unfortunately.
Pick your favorite contestants! Vote for everyone you like!
Who will win? This poll will conclude in about three days! Let's get to voting, folks! Pick as many as you like!

Just about missed the poll but still wanted to do a 2nd anna sprite.
(yes this one has a little bear too)
You would've gotten my vote it looks so pretty.
Today's the third day, and the votes haven't budged since yesterday, so I'm closing the votes!
@Plant_Academy baaaaaaaaaaaarely squeaks out the win over @AtelierLabs though it was a CLOSE matchup, with Atelier leading the pack for most of the run-time. I was ready for this to end in a tie, but fortunately or unfortunately, depending on who you ask, that didn't happen.
For Round 13 of the CCC, the next three characters you will be spriting will be:
Cecilia: Mage General of Etruria!

Pent: Mage General of Etruria!

Saleh: Mage… General… of… Caer Pelyn?
(Okay not quite, but he hits the archetype so who cares?)

That's right, next round is the GBA Wendell archetype round! Except no Wendell, or Ced, or others. Just the GBA characters.

I am looking forward to what you guys will create! Round 13 will begin one week from today, on the 17th! That gives you a full week to prep your first entries, if you would like to do so. We usually do two weeks, but that always feels a bit excessive.
October 17th is the start of Round 13!
Just a heads up.
I have not forgotten about the CCC. I am extremely busy right now, well beyond the usual standard and pulling all-nighters making an AI character engine.
I'll post the new topic when I have time, but it won't be for a few days and it's bottom of my priority list right now. Sorry for the delay.
Final update: Too busy to do the CCC anymore. If anyone else wants to take over, feel free.
I'm just too busy.
Hey guys! I had an offer come in from @Matthieu to take over the CCC! And so they will! Here's a link to the next CCC!
Any portraits you guys made before I went dark are still submittable! Matthieu will be running the contest moving forward
Thanks for taking over, Matthieu!