A year or two ago, I played Fire Memeblem 0, by SD9k. It's a meme edit of FE7 where every player unit has 0 in all of their bases, barring HP, which was set to 1. It's obviously and intentionally unfair, as FE7 was never designed to be played with such incompetent player units. But recently I thought to myself, what if it was?
This hack is designed around the restrictions of extremely weak player units. Each of the 8 playable units in this hack has 1 base HP and 0 base everything else. To compensate for this, additional restrictions are in place. Everything is locked at 100% hit, and growths are fixed. Weapons have had to be slightly altered to fit in with this style.
New stuff!
Ring System

FE4's ring system is present in this hack, but the rings present all have explicit downsides, giving them more strategic use. P-Down, D-Up may help you take a hit despite your abysmal stats, but your damage output takes a heavy blow. Ring bonuses also stack.
Refined Dancer Rings (note: no longer rings to avoid confusion)

Thanks to the hack's short nature, you can use weaker versions of Filia's Might and Nini's Grace wherever they may help you, without fear of needing them later.
These two mechanics alone lead to very CQ-esque statstacking.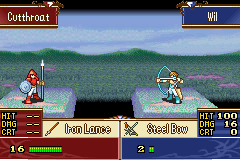 Maps

This hack consists of 5 relatively short maps, each with a unique look and song. Enjoy the game's gradual shift from puzzle to traditional FE as your options expand.
Download here (apply the patch to a clean FE8U rom): Dropbox - Bases and Bandits - Simplify your life