Hello, all. My name is SD9k, and I've made a…thing. This thing should not be played by anyone who wants to keep their sanity. This thing was made as a request by a masochistic individual over on the /r/FireEmblem Discord server. So I decided to spend a few minutes making something I though would never be played or talked about ever again.
To my surprise, however, people actually became interested in this. People started looking into it, and some even actually started playing it. I'm still baffled as to why somebody would put themselves through the torture of playing this.
Anyway, enough backstory. You're here because you heard the words 'Fire Emblem 7 with 0 bases' I'm sure. Well, here it is. I have made a hack in which all playable units start at level 1 with 0 base stats, except for HP, Con, and Mov. All playable units have 1 HP, and have their vanilla Mov/Con stats. I have also increased the level cap to 30, and increased exp gain.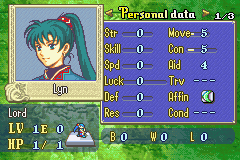 I have also made an easier version, per request of some people over on the /r/FE Discord. The easy version lets prepromoted units such as Marcus start with roughly half of their class' base stats. Some units have been moved closer to the players' starting position to make them easier to recruit. In addition, I have included a .sav file with all modes unlocked so that you can avoid going through Lyn Tutorial Mode.
Here's the link to the .zip file containing the .sav, and the UPS patches for both the easy and "True" versions of this hack. If you have any questions, or notice any problems, let me know. I'd like to think that between myself and a few others, namely Borsthestylish/Angry Bors, we've gotten most bugs and mistakes ironed out, but you never know.
TL;DR, I made a hack for FE7 where playable characters start with 0 base stats and 1 HP.