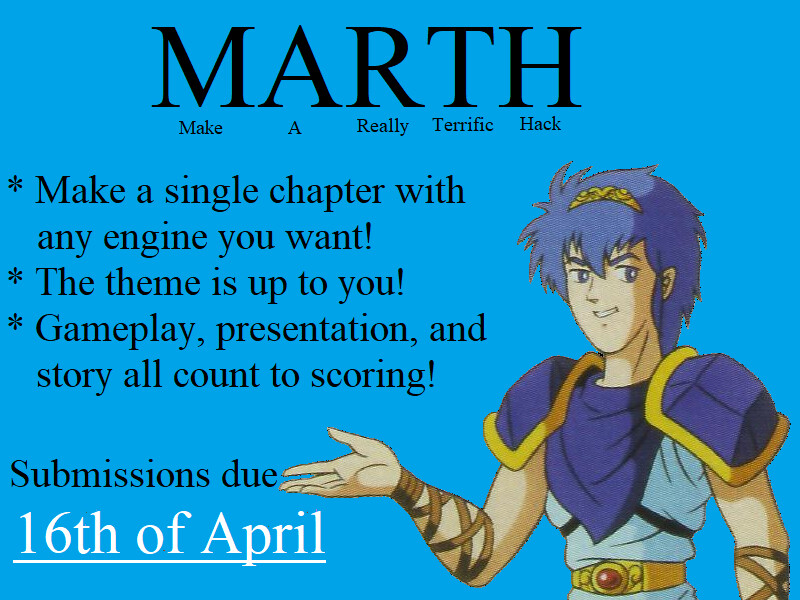 Announcing Make A Really Terrific Hack, or MARTH for short. This is a chapter creation competition in the vein of Ghast's Make A Fun Chapter series. This is intended to be a basic, no-frills contest. Prospective entrants will be challenged to make a quality chapter based on three fields of skill: gameplay, graphics, and story.
The contest will be judged by four people: @Darrman, @MCProductions, @2WB, and @theghostcreator.
RULES:
Engine

Entrants may use whatever engine they desire.
Engines include GBAFE, SNESFE, FEXNA, SRPG Studio, or Lex Talionis.
If hacking, entrants may use whatever method they prefer.
Though creating an SRPG chapter is recommended, it is not required.

Length

Entrants are restricted to a single chapter.
There are no restrictions on this chapter's length.
There are no restrictions on map size.
Only one map may be used for gameplay.

Content

Entrants may theme their entry however they wish.
The FEU content rules apply. Submissions may not be rated 17+.
Entrants may have as much or as little text as desired.
If entry is not an SRPG, Fire Emblem must be relevant.
For example, a Mario hack featuring Marth is allowed.

Submission and Time Limits

Entrants have until 11:59pm GMT on the 16th of April to submit an entry.
Entrants may spend as much time as desired working on their chapter.
Entries must be sent to @Darrman on Fire Emblem Universe via personal message.
Entries must come with patching or running instructions.
There will be no extension to the deadline.

Disqualification
Entrants will be disqualified if they:

Submit an entry that does not boot.
Submit an entry that cannot be finished.
Submit more than one chapter.
Submit an entry directly recycled from another game.

Ranking
Entrants will be scored in the following areas:

Gameplay: How enjoyable the entry is.
There are many elements in what is fun.
A unique chapter with an interesting gimmick will score well.
An empty field with a unit walking from A to B will score poorly.
Adding ASM hacks without balancing around them will be frowned upon.
For example, using the Skill System default skills without change.
Presentation: How the entry looks and sounds.
Don't be afraid to use mugs and animations from the graphics repository.
If the entry stands out visually compared to other hacks, it will score well.
Tile cut-off or poor-quality recolours will penalise the entrant.
Music quality will also be scored under here: midis with dummy instruments will hurt your score, while high-quality mixes help it.
Story: The tale the entry tells.
The story does not need to be serious. Comedy is more than welcome.
Whether serious or funny, the story should make sense. Avoid plot holes.
There is no need to have every blue unit appear in every conversation.
Having little or no text will result in a low score, as will placeholders.
Gameplay will be scored out of 10, while presentation and story will be scored out of 5.
This adds up to 20.
Four judges will review each entry.
These scores will be added up, for a grand total of 80.
The entry with the highest score wins.
The winner's project will be set as the forum banner for two weeks.

Other Notes

Entrants are welcome to collaborate. However, they can only submit one entry.
Entrants are welcome to publicly post a patch in the entry thread upon submission.
Entries will be released to the public with the results.
Entrants and non-entrants are welcome to play and provide feedback to other entrant's entries.
Judges will play each entry without save state usage. Please factor this in.
If you don't know where to begin, this video is an example of what to aim for.

I've linked to Plunder Gone Asunder from MAFC4 as an example of a solid entry made by a beginner at the time. However, do not shy away from more radical gimmicks: the same competition had a Rubik's cube submitted!
Remember, the deadline is 11:59pm GMT on the 16th of April. Good luck to all entrants.