This is my attempt at a boss recruitment for Fe8. I played ArcherBias Fe7 Boss recruitment
and I had fun with it, so it gave me something to try to make for FE8.
I hope people will like it just like ArcherBias Fe7 one.
However, I made a few adjustments to FE8 to set things a bit differently.
Rules: Only one boss from 5 sets of bosses can be recruited.
Check the doc in the download to see who belongs in what set.
Change1: Marisa now has buffed growths, bases and weapon rank is now c to make her
a viable choice over Joshua if you need another myrmidon.
Change2: I boosted enemy growths by 15% to make the game slightly harder
and changed some maps a bit by adding a couple of quality changes.
Example: Renvall breakable wall is removed and replaced water pools with
a walkable floor segment, Jehanna hall has an extra door now.
As a result, some of the enemies off to the side of the path now run after you
straight away.
Change3: Poison monster weapons are now changed to new ones.
Poison Claw is now Feral Claw. (30 Crit)
Lethal Talon is now Frenzy Claw. (Brave)
(Stats are slightly changed)
Change4: Final battle now has 2 Draco Zombies and summons now have upgraded
weapons to make them more of a threat. (Also the center bridge is removed)
Change5: Due to some chapters having only generic monster bosses and some bosses
(due to story reasons) must die and can't be recruited, I added extra bosses
to fill the missing slots. They have intro events.
Change6: I added 2 more Secret shops and placed tiles where they are located.
Extra boss portraits by: LaurentLacroix, AmBrosiac, Smokeyguy77, XVI, Sphealnuke,
RandomWizard, Ghostblade.
Screenshots: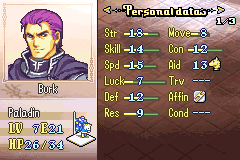 Hope you have fun!
Also, join the Discord!