Videos for all chapters are available now!

Wiki
Discussions
Known Bugs
Report New Bugs
It is an open source project and feel free to contribute.
Features
Bilingual Story
Switch Japanese and English in Configuration menu and reset.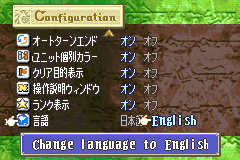 Many Maps
Hundreds of maps.

Skill System
Special skills, assist skills, passive skills A/B/C (LV1 - 4), sacred seals.

Character Voice
Voice when selected, viewed, injured and in battle.
Map BGM
Map BGM from different Fire Emblem generations.

Achievement System
Challenge and unlock kinds of achievements. It is in the 8th entry (hidden) in extra menu.

Custom difficulty
Adjust the game difficulty by yourself with several configurations.

Title screens


It changes with the game story progress. Complete main story and unlock more title screens.
Wanted
Battle animations for custom characters in Fire Emblem Heroes. You can use up to 30 colors in animation.
Support coversations.