Hey, babus, I made a hack.
So one day I got really bored and decided to mess with numbers in FE7 and thought it was fun and kept pushing the limits of what I could do and started wanting to see how far I could go. So I ended up having ideas about a story and then this just happened over the course of five years. I can say my friend Tacthack also gave me inspiration to take the step forward and he kept me motivated throughout the process.
Anyway, the core of the game is done. All the chapters and story dialogue are complete. I'm sure there are plenty of grammatical errors and unbalanced things still, but I'll make corrections as they are pointed out to me by people who play it. Support dialogue is not in yet, but finishing those is my main goal right now.
So what's this about?
The continent of Brauma, named after the dragon goddess, is met with instability. The empire of Deimos, lead by its regent Raum, has launched a campaign of unification. Having defeated its neighbors to the east, Raum turns his eyes southward towards Enterre. Our story begins here, as a young lord from the dukedom Vanheim pays visit to the Duke of Enterre.
Features that are different from the original game
-An original setting, story, and characters
-27 chapters
-inserted music from FE2, 4, 6, and 8
-Knights use lances and axes or swords and bows, generals use all weapons
-playable soldier class, promotes to Halberdiers
-playable brigands
-playable manakete
-monsters from FE8 have been added, as well as an original monster
-class stats, caps, etc have been altered
-some weapon stats have been altered
-a few new weapons
-all lords can seize, not just the main one
-effective weapon bonus has been changed to x3 instead of x2
-other background things you may or may not notice
A few character introductions



Orion
The duke of Ernterre, Lord of the Eagles. His strong sense of pride drives an undying obligation for the duchy. He is seen as an eccentric to some people due to his hands-on approach to things as well as his outlandish fighting style of dual-wielding two large swords




The tactician
A noble from Vanheim and the child of the famous tactician, Volund. Has a habit of making bold risks to win battles and utilize the unique talent of using both anima and dark magic. They set out on a quest of self-improvement, their first major stop being Ernterre.



Francine
The Knight Commander of Ernterre. As a foreigner to the duchy, Francine has churned up bad blood amongst some nobles. However, her skill and hard-working persona are undeniable.



Ronaldo
A noble of Ernterre with a shady background. Disliked by nearly everyone, Ronaldo is rude, sarcastic, lazy, and has poor hygiene. He is surprisingly on very good terms with Orion, with them having a deep history with each other.


Freesia
Known as the Dragon Priestess, Fressia is the half breed child of the Brauma. She isolates herself in a shrine in the mountains, ever vigilant of the continent's well being from above.



Dracul
A knight of Ernterre. A proud nationalist and has trained many of the younger knights of Ernterre. He is in charge of the Ernterre's defenses on the border to the empire.



Raum
The regent of Deimos. A man who has been in service to the empire since birth. He dreams of witnessing a united continent.



Maximillian
General of Deimos and son of Raum. Like father like son, as the saying goes; they share the same ambitions of a unified world. He is known for the vicious hounds he breeds for war.


Jasmine
Another general of Deimos. A bizarre man who holds beauty as the highest virtue. He is of noble blood and his family has ownership of the Patastra, a powerful lance of legend.
here are some screenshots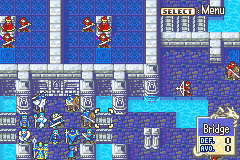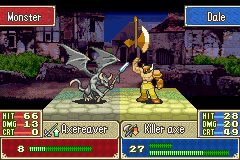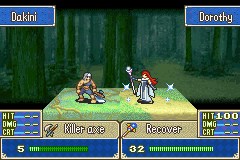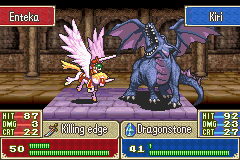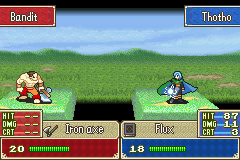 and here is the ups patch

(updated, 11/7/2019, fixed an error with the ballista having 0 hit)
please enjoy, and I could use the feedback.