Years ago my friend Mariobro3828 and I started the Romhack Fire Emblem: Decay of the Fangs.
After nearly a decade, the story will finally conclude! I'd like to introduce: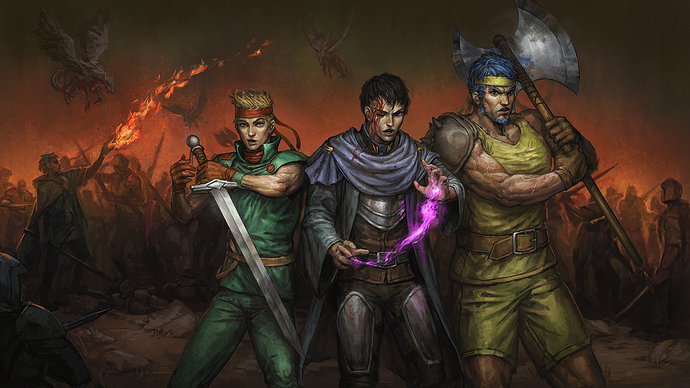 The Fang's Justice is Absolute
The Four Fangs have fallen. The Black Fang is dead. Its purpose polluted, its vigilantes vanquished, it's now up to a small band of survivors to vindicate its legacy and in the process, bring revolution to Elibe.
Take command of a rogue faction with a never-say-die attitude and a penchant for violence. Directly following the events of Fire Emblem and setting the stage for Fire Emblem: The Binding Blade, Fire Emblem: Black Fang is an original story of disenchanted renegades fighting to survive against cutthroats, the nobility, former allies, and gods among men.
This is a game about survivors of the Black Fang being forced to find new meaning after Hector and Eliwood decimate their army. Tonally this game is a bit darker and more adult oriented than most Fire Emblem games with a few serious and earnest moments, but it is mostly intended to be a bit silly. The game is inspired as a tribute to the members of the Decay of Dragons forums whom many of the characters are based on. If some jokes don't land for you, please overlook it with this in mind.
The game is not finished but it was important to me to lay down the bones of the main story. It can be played from prologue to epilogue , all 25 plus chapters . I'm working on a chapter guide on the Wix site with the chapter unlock conditions (though later chapters will often have characters explain what to do in the prep fortunes). At the time of writing, not all supports are complete but just about 180 are (meaning 60 through to A rank). Some actions have consequences. It is impossible to keep every recruitable character alive.
Patch: The UPS can be found here. UPDATED 1.08 5/22 Apply this to a base FIre Emblem Blazing Blade rom to play.
Discord channel: Fire Emblem: Black Fang
Gallery (avoided major potential spoilers)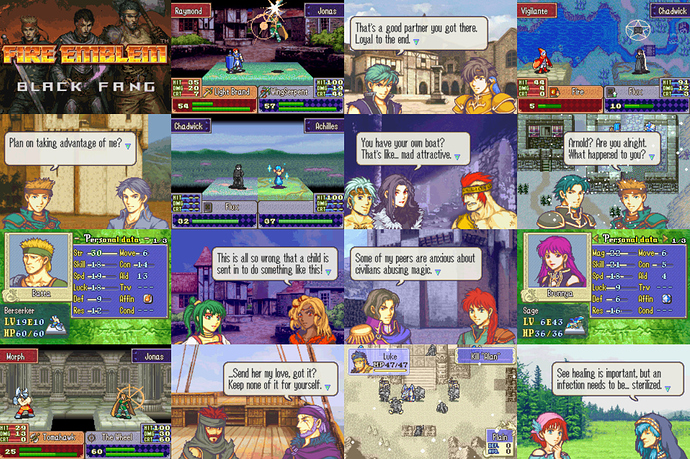 This Fire Emblem Romhack could not have been possible without the extensive support of software, art, and music contributors. As the project is almost a decade old, I have lost the names of some of the early contributors. If you have designed a sprite or software that was used in game that was not properly credited, absolutely do not hesitate to let me know. I will immediately add your name to the list of contributors! If you would prefer to have your work removed, please contact me via Discord (link below).
Discord channel: Fire Emblem: Black Fang
Bugs can be shared in through the Discord as well as general thoughts about balance and design. I'm certain there are better programmers out there that could make suggestions as well and I'd be thrilled to tap into any and all resources to make this game the best possible. Development is an ongoing process and errors/mistakes will be made, please be patient.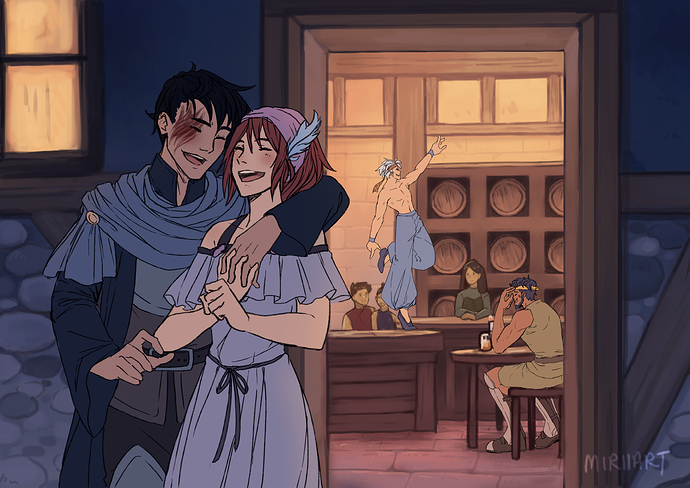 Special thanks to
7743 for the incredible FEBuilder open source software
Darya Abdulina for cover art
MIRIIART for the 19x art above
Marlon0024, Asael, MysteriousDancer for the base tactician animation adapted for Chadwick
Pikmin1211, Retrogamer for Hexer sprite
Aruka, Kenpuhu, Orihara_Saki, Venno for Viv's promotion
RedBean, Mikey Seregon, Marlon0024, yikes for Hannah's animation
GabrielKnight for female monks' animation
GabrielKnight, Skitty for angel William animation
Nuramon for apostle animation
IS, Primefusion for Wraith animation
Red Bean, Zelix for Echidna animation
Nuramon, ZoramineFae for Zephiel animation
Nuramon for Zephiel promotion animation
Cipher Lee, DerTheVaporeon, Nuramon for Jonas animation
IS, Skitty, Primefusion, Orihara_Saki, DerTheVaporeon, Kao, Aurora for axe cavalier animation
Deranger for Miguel animation
TBA, Spud, MeatofJustice for halberdier animation
IS, SHYUTERz, CamusZekeSirius for Chadwick regular promotion animation
L95 for the base of bard animation
Seal for the base of Chadwick using the ballista animation
Spud for conduit animation
ZoramineFae for the Leif X animation
TBA, Arch, Skitty, Temp for L.E.I.F. animation
IS, Marlon0024, Orihara_Saki for Morph-Dra/Mal Aenir animation
IS, Marlon0024, SHYUTERz for Marek animation
Supports can be viewed in game because all are unlocked in the menu without triggering them in game. Meaning you can go back and read everything without having used it before. BE ADVISED you may spoil late game surprise characters if you view this on your first playthrough. Completed supports can be found here: Supports
As mentioned, this passion project is still a work in progress so please post any constructive feedback, questions or advice here or in the Discord. I kinda don't know what to expect because I haven't been active in the romhacking community in recent years.