So, I've always been a big fan of minor one-off bosses. My favorite implementation of them has to be Conquest's use of Fates capture, allowing you to recruit some of these bosses (Haitaka, Kumagera, Zhara, etc.). However, I always thought about how recruiting bosses would work in a game with a larger group of them.

So here we are!
This hack is extremely simple in concept. You get to recruit one boss per "segment" of the game by talking to them with Roy.
These "segments" are
Chapters 1-8
Chapters 9-12
Chapters 13-16
Chapters 17-20
All gaiden maps are combined into one segment.
Some notes:
All gaiden bosses outside of 20xS have an S rank in their respective legendary weapon's rank, and A rank in everything else.
Tick has a sword rank. Yes, this is vanilla.
Flux has been added to earlier shops for Wagner's sake.
I'm aware this translation isn't the most recent. Oops.
USE SAVESTATES, I've seen some wack shit happen to the player bosses when loading from save files.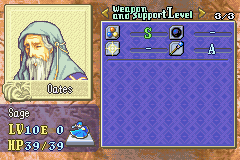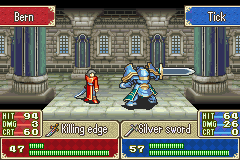 (oh yeah, i forgot to include this in the readme, but the new palettes either from Project Ember or made by my friend @Selk)
Download here! (Patch over FE6J)
Update (5/7/2021): I updated the patch with a minor fix for Ein's palette. I've changed the generic player male manakete palette to look like him instead of trying to give him a palette, making his Divinestone animation far cleaner as a result. If the original irked you and you wanted to use Ein, redownload. Otherwise, no big deal.