Current version (8 chapters + some drafts):
FFX ups file
Patch on FE8 U
How to patch a rom. NUPS patcher.
Recent changes log:
This project is cancelled now to work on Pokémblem instead.
Please PM me if you need to report any bugs.
July 3rd: 'Trainer battles' system & more.
June 22: Improved aesthetics released.
June 14-15: Redid Cliffside. Minor bug fixes.
June 13: Exp overhauled.
Media
No permadeath. Units are revived after battle.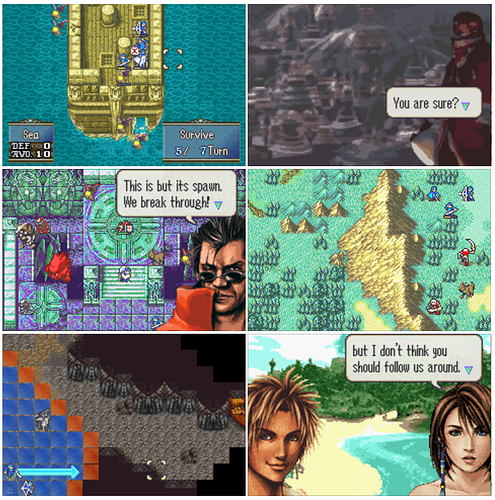 Jrpg style. You explore and fight random encounters. 63 battle maps.
(Units are placed randomly in applicable corners.)
Unique monsters:
Battles: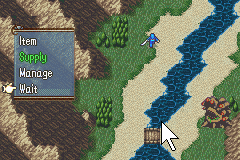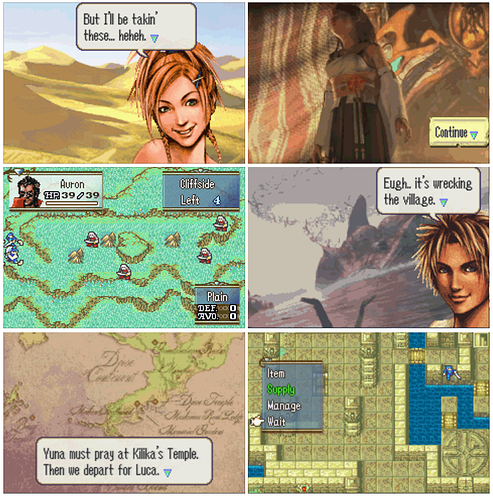 More Gifs:
Repels
Reclass while maintaining level
Buy Skills
This game is not trying to be Fire Emblem exactly. I'd call it a strategic JRPG. The story is an abridgment of Final Fantasy 10. The writing is influenced by the original script, but sparse and intended for newcomers.
Please inform me of any bugs you find. Feedback is always appreciated.
If you'd like to make a chapter for this game, or contribute in another way, please join my discord server or post. All are welcome (eg. to follow updates or discuss ideas).
Credits (preliminary)

Vesly

Feels
Random Wizard
Zeta
Zoramine
7743
Kirb

Assets
PurpleMage (2 tome icons)

Patches

16_tracks_12_sounds
Additional AI: Talk AI
All Instrument
Allow 254 generic minimugs
CasualMode
Fix CG Fade Glitch
Sell Price expansion
Minimum poison damage for each chapter
Shop BGM for each chapter
Preparation BGM by chapter
Victory BGM by chapter
Chapter titles to text
Map Danger Zone
Define multiple classes to suppress status display
drumfix
Remove enemy control glitch
Display escape menu
Add Event: Split Menu
Change AI of unit or class at once
Make the unit bad status
Get hp
Get level
Get status
Set status
Item check
Lose Item
Give experience points
Convert memory slot to string
Instantaneous move unit
Silent give item
ExModularSave
FE8-Battle stats with Anims off
Set Unit State Conditions (UNCM)
01command_hack
48command hack
Anti-huffman
FixedGrowthsMode
fix_lz77decompress
Fix Summoned Phantom's wexp
Get number of units matching a specific condition
HPBars
Improved sound mixer
Even in fog, ensure visibility at specific coordinates
Less annoying fog
Event condition: Tile change
Skip world map fix
Display multiple exit markers on the map
Allow to summon multiple classes
Allow detailed setting of weapons held by summoned units
Narrow font
Make NPC as third power
SkillSystems
Sound_NIMAP2
Stairs 20191031
TorchWeapons
UnitActionRework
Special event for each unit
Change effectiveness damage coefficient of the weapon

Please let me know if I've missed your name in credits after using your resource. Apologies if this happens.
Flag names & comments on the events for anyone curious as to what each event does.
Place into folder for event/flag names


Then if you're using FEBuilder, you can easily see what I've called an event.
Thanks for the support, everybody.
Old version of this first post

Release (Apr 24, 2020, 5 chapters):
FFX ups file
Use on FE8 U

I wanted to share my demo/progress on my romhack. It has about 5 maps.


Random battles. I am not a coder; this code is bad. But random enemies of the 4 that I've set it to spawn do in fact spawn… my hope in that posting this is that someone may like the idea and try to create a better way of doing this.

There are many bugs. But I think I've removed the gamebreaking ones for now.

List of some things:
4 custom enemies that look pretty bad
5 imported midi
mid-chapter save house
random battles
main character portraits that could be improved upon
certain weapons to use debuffs if the debuffs patch gets fixed (limited to 3 debuffs right now) (eg. Wakka has Dark Shot that lowers enemy skill by 5 if he deals damage to them.)

I want to create an adaptation of final fantasy 10. Please support the official release. This version may not follow events exactly as they happened in FFX; most of the game suits a fire emblem remake pretty well, but I condensed and changed some of the early game events to fit FE.

If anyone is interested, I would love to have help with this.

Warning: PSP cannot emulate this romhack properly (due to sound, I believe). But VBA and a real gameboy advance seem to do just fine.

Example of a bug I need to fix:
Change AI of Rikku in 'New Shores'. Supposed to move towards escape point after first talk event (and cause a game over), but seems to be creating blank enemies (?). Not sure why.

P.s. I hate mountains. Besaid Island nearly killed me.

Original demo file