Hello there everyone, I made a hack. It mostly started as a test of self to commit to finishing something and I felt like doing it in hack form. Somehow I was able to knot together a story of sorts which seems to be a conventional plot in vanilla FEs but I suppose making this took priority. I plan on making it look better but I just felt focused on getting it out. Anywho, let's get into it.
Story: The main character, Prince Gerald of one of the continent's superpowers, Gilgam, was on a mission with some knights assigned to him. One day, an invasion from the other superpower, Attika, changed how his daily life worked… (The rest of the story so far is too spoilery imo)
Features:
Melee/Magic Hybrid classes like Harriers
Gameplay Changes
Status Weapons
Heroes Repositionals
Quality of life improvements (stuff like danger Zone, display healed amount, display growth rates, etc.)
Bad mugs for the most part (if you're into that sort of thing)
An Anima Weapon Triangle, with Fire, Thunder, and Wind
24 playable chapters in a single route
SNES Criticals
Known Issues:
At the end of 1-F when Gerald promotes, the graphics gltich a bit before the promotion but it does not impact the gameplay in anyway.
The modified weapon triangle kinda conflicts with the anima triangle only in the essence of "the enemy has the new bonuses but player units have the vanilla WT bonuses.
If the Thunderbolt spell misses, a part of Thoron plays. Not major at all.
if you load a file on EPILOGUE, the turncount scene can look a bit off, but the turncounts are shown correctly.
Screenshots: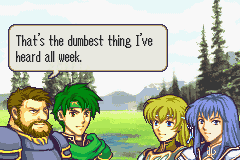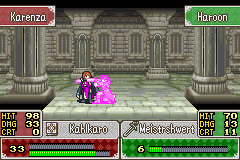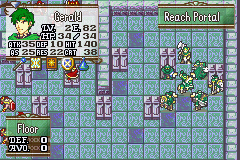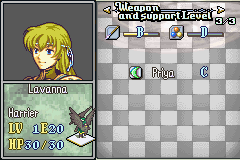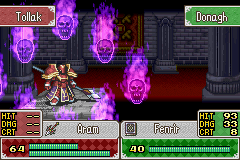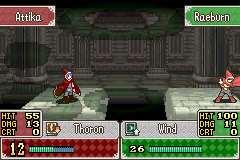 Download

Includes Normal 0% Growths, 100% Growths, a patch to make player units blue (that one you need to patch over an ROM already patched with the hack, Changelog, Credits, and Special Thanks