The first version of FE8 Gaiden-style Magic Menu is now publicly released!
This hack lets you select a spell that the unit learns by leveling up from a separate menu, essentially attacking with a weapon outside your unit's inventory. Casting a spell also costs HP, so be careful!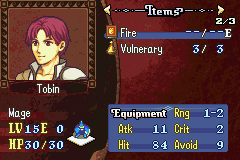 The repo above will let you build it to a clean FE8 ROM. (Tobins not included.)
Known issues:
Has not been tested with SkillSystem (that's why this is released as an open source buildfile).
Magic menu can only be selected on player phase; if the unit does not have a fallback weapon in their inventory they will be unable to counterattack on enemy phase. All vanilla characters defined in the SpellAssociationTable can wield magic normally so in normal gameplay it wouldn't make a difference. (It would just give you a free attack on player phase if for some reason your weapon breaks.)
When selecting a unit to move it, if they do not have a usable weapon in their inventory their attack range won't be drawn.
HP cost per cast isn't animated in the magic user's HP bar during battle.
Will update again when 1.1 is out - if any other bugs show up, drop me a github issue or post here.