Hello, FEU! I've been working on this project for months now, and while it's not complete quite yet, I thought I'd finally at least make a page for it, especially now that the FEE3 schedule's out and people are probably wondering what the heck it is.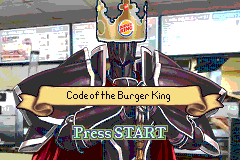 I'm proud to introduce Fire Emblem: Code of the Burger King, a fully featured FE8 hack.
Join the Discord server to get notified about the latest releases and talk with like-minded hamburger enjoyers! (That's also where I'm by far the most active if you have feedback or questions.)
Download the latest patch here! (Apply patch to a vanilla FE8U rom.)
Featuring:
A tale of one knight's quest for vindication after working far too long in fast food!
A campaign with a planned 20 chapters and 6 gaidens!
A WIP postgame that'll test your skills! (or your ability to grind, I won't judge)
34 characters pulling from across the Fire Emblem series, plus some surprises!
A rich support log that grants way too much humanity to this wacky cast.
Tons of secrets and references!
A unique reclassing system!
Redone statcaps- this isn't inflation, but it's also not GBA anymore.
A diverse soundtrack featuring both F2U and custom music!
Much more!
NOTE: This hack contains occasional dark themes, some strong language, and worst of all, spoilers for most main series entries (especially Tellius!) - stay away if you're averse to any of that.
Screenshots: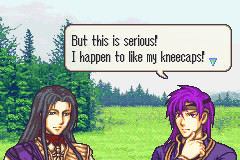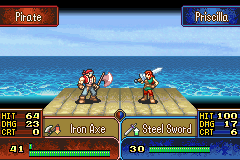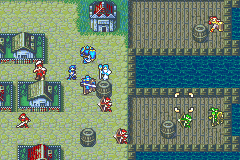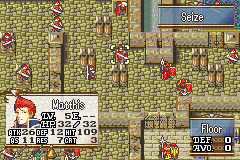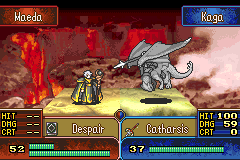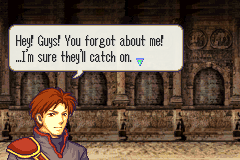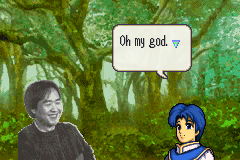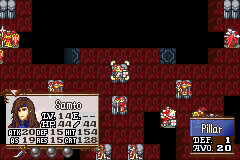 Hard Mode is the intended difficulty, though if for some reason you're only in this for the story, Normal Mode should work just fine.
Credits

Animations-
lovemachine
Mikey Seregon
The Big Dededester
HyperGammaSpaces
Blue Druid
Alfred Kamon
Greentea
RobertFPY
Spud
Ren_Ookami
Pushwall
Glenwing
MK404
DerTheVaporeon
Flasuban
Team SALVAGED
Iscaneus
Leo_link
Nuramon
Swain
Temp
Wan
TBA
Spud
MeatofJustice
Pikmin1211
Maiser6
Ukelele
SD9k
Black Mage
Orihara_Saki
ltranc
Eldritch Abomination
GabrielKnight
Retrogamer
7743
Mikey Seregon
Teraspark
Aruka
Kenpuhu
Seal
MrNight
Jeorge Reds
ZoramineFae
HGS
Levin64
RJ
Exists
Obsidian
Daddy
Sacred War
JeyTheCount
MrGreen3339
Trooper
AKA
SHYUTERz
An odd Dutch introvert
St jack
Blazer
jubby

Portraits-
JiroPaiPai
flingleforp
Nickt
Peerless
Levin64
Citrus
DunkingDucks
Renoud
Atey
Sterling Glovner
WAve
Vilk
Yang Kai
Zorua
HyperGammaSpaces
DGE
RedFE
BlueyGuy
Flasuban
CardCafe
Zarg
BandanaSplitzzz
CamusZekeSirius
CM9
Laurent Lacroix
Obsidian Daddy
RandomWizard
BatimaTheBat
SacredStones
MrGreen3339
Cold Medicine
Glaceo
Kanto Emblem
Fenrier
RedstoneGaming
DerTheVaporeon
Nuramon
MarioKirby
Redbean
emerald 18
SomeDenseGuy
Cosimo
Grated Shtick
Lenh

Map Animations-
L95
DerTheVaporeon
FireEmblemier
Flasuban
Leo Link
TBA
Pikmin1211
StreetHero
blood
Ash3wl
team SALVAGED
Tordo45
Nuramon
MeatOfJustice

Class Cards-
FPzero
TBA
ArcherBias
Rasdel
MeatofJustice

Tilesets-
N426
ZoramineFae
Venno
Flasuban
WAve
RandomWizard
Beast

Item Icons-
Beansy
2WB
CardCafe
SacredStones
Lisandra Brave
Seal
Purple
Ereshkigal
Zelix
Lord Glenn

Background CGs-
ZoramineFae

Menu Frame-
Ig

Battle Screen-
Sokaballa

Assorted ASM/Patches-
Huichelaar

All asset credits are also listed in-game via the Guide menu or directly in the Sound Room- if you notice that I forgot to credit someone, let me know and I'll fix it!
Any and all assets I've made for this (primarily music) are additionally free to use.
no relation to code of the black knights, it's just a funny name