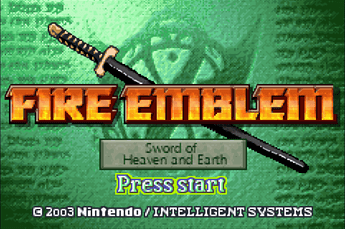 Hey guys, how's it going? I hope you are doing great! Here again with a new translation after a year.
This time I am pleased to present the complete translation of the Sword of Heaven and Earth hack made by 38%, a japanese guy.
Below I will leave some more information about the project, I might edit it later to make it more presentable but in the meantime, I hope you enjoy it as much as I did translating it!
Download

You will need an FE7 US rom and a program like NUPS, or Floating IPS (although it may not look like it, the program does accept UPS patches) to patch it.

Fire Emblem - Sword of Heaven and Earth v1.2
---
Story

War looms over Elibe once again. Zephiel, King of Bern was the one who started the trigger, but thanks to the efforts of Roy, Prince of Pherae, his plan never came to fruition.

Before these events, Saya, daughter of Chief Lyndis, prepares for what will be her last training.

Embark with Saya on the other side of the coin of the events of this ruthless and cold war.
---
Screenshot



---
About this project

It's been a year since I translated Queen's Sword and long before that I had already had my eye on this game when I was still using FEbuilder and knew the forum haha

Honestly this was meant to have been published last year, because after I finished Queen's Sword I started to translate it but I didn't get very far. I was inspired months ago by a let's play from Pandan (creator of Vision Quest) and I think that motivated me again, besides that it was also a promise I had made myself.

Even with all that I was going to publish it 1 month ago but for certain things I couldn't.

I don't know what I'll do after this (but maybe I will) but it was a lot of fun to work on it, I hope you enjoy it!
---
Feedback

To be clear, English is not my native language.

By no means this translation pretends to be perfect (I want it to be as good as possible), but I can tell you that I really did my best with the tools I had at hand, I improved my Japanese a little bit during this year and my English has been growing a little bit more, but even so it is to be expected that it is not going to be perfect and it might need a revision by someone who is an expert in Japanese.

If any of you can give me your opinion of how the translation is and also if you know someone capable of giving it a separate review, you can contact me by personal message or in the FEuniverse Discord.
---
Bugs (Read before downloading)

The few that I found I fixed, but:

1.- There is a bug where the game freezes after seeing the enemy descriptions, this rarely happens when starting a new chapter, I'm 95% sure it probably won't happen to you but if it does, to fix it just restart the chapter.

That said what I recommend is that, at the beginning of each chapter check the descriptions of some enemies and see if it freezes.

2.- There is another bug where near the end of the game you will be given a random unit with random stats (practically useless) I don't know what causes it but if it happens to you don't worry, just keep playing.
---
Having said all this, I sincerely hope you enjoy this story, and like I said I'm willing to receive as much feedback as possible, without further ado, see you next time!
Credits:
38% (Autor of the hack)
Pikmin (Thanks for always helping me!)
Pollen (For the support!)
Isaac (Another support!)
DeepL Translator
Google Translator