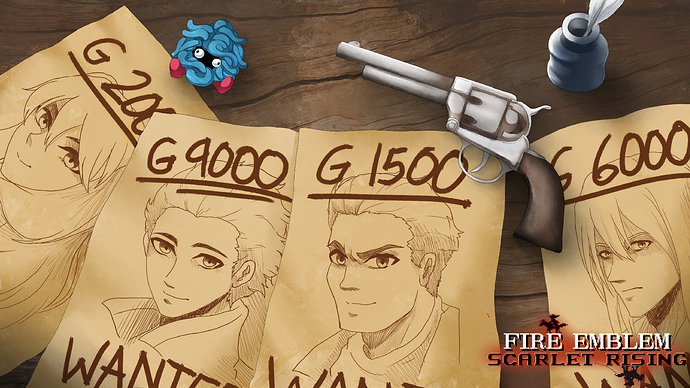 Hacktown. By day, an unsuspecting town known for its mining operations and peaceful atmosphere. By night, one of the most dangerous towns on the continent, where adventurers and outlaws alike indulge in the thrill of high-stake duels.
One day, a famous rescue team receives a vague and ominous letter alerting them to a crisis in the town, and they set out to investigate…
Introducing Scarlet Rising!
Throwback to late March. I was quite literally days away from packaging up the THHG's assets, ready to release them out into the forum as a sort of send-off from the hobby… Then life suddenly said no and had other plans. As strange as it sounds, one night I dreamt about a Wild West-themed hack, something reminiscent of the Western Isles but with my stuff, a bit more style, bit most importantly… GUNS.
(Some might say I'm too obsessed with western stuff)
I tried to forget about it, but I just couldn't shake the feeling that it could be made. If it wasn't for a conveniently-timed contest deadline, the wonderful @Pandan giving me some much-needed encouragement, and @Pwntagonist giving me the metaphorical wake-up call I needed… this probably would've just stayed a dream.
The usual suspects @Glacoe and @Tamborrino are back in full-swing working their magic to bring my creation to life, whilst a few House newcomers like @Bloopy, @tristan_hollow, @feels and @Fatih chipped in to add their much-welcomed flair.
I could drone on about the hack and its features for ages, but I think I've already hogged too much of the stage. Well, what are you waiting for? Dive into the action-packed, gun-slinging saga of Scarlet Rising!
As wise uncle Kojima says, Rart Emblem is back baby!
DOWNLOAD