This is technically an SRPG Studio game and not a hack, but I'm not sure what else to categorize this as.
Anyway, for some time I had this Written Works project on Serenes Forest called Fire Emblem: Ascension where I was presenting an original story of mine as a hypothetical fangame, including the mechanics I wanted to appear in it since I found learning how to hack intimidating.
And then SRPG Studio came out in English, and everything changed. I was amazed at the sheer potential it had as an easy-to-learn fangame making tool and knew at that very moment it was what I was looking for all this time.
Notable features:
Single RNG (this is what SRPG Studio's engine uses)

The Weapon Triangle (Swords, Lances, Axes), which grants Accuracy ±15

The Trinity of Magic (Light, Anima, Dark), which grants Attack ±3 and Accuracy ±15

Bows (all of which are 2-3-Range) and Fates-style Daggers, which are triangle-independent

Bonus EXP (like in Radiant Dawn)

C-S Rank Supports, but no Child Units, so don't worry about pairing everyone off; Support building is also purely deployment-based

AS = Spd - Wt (you need 5 more AS than your opponent for follow-up attacks)

A route split
Planned additions:
Improved presentation (halfbody portrait system, new music, new class and map graphics depending on how MarkyJoe's community asset project comes along)
Limited mid-chapter saving
Additional difficulty settings (if demand is high enough)
Spreadsheets (all subject to change):
Characters
Classes
Skills
Supports
Weapons/Items
Dropbox link (v4.1)
Discord server
Character popularity poll
Instruction manual
So for now, have some screenshots: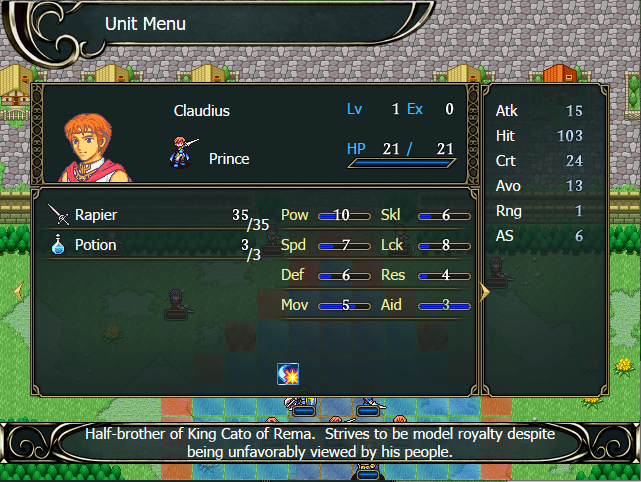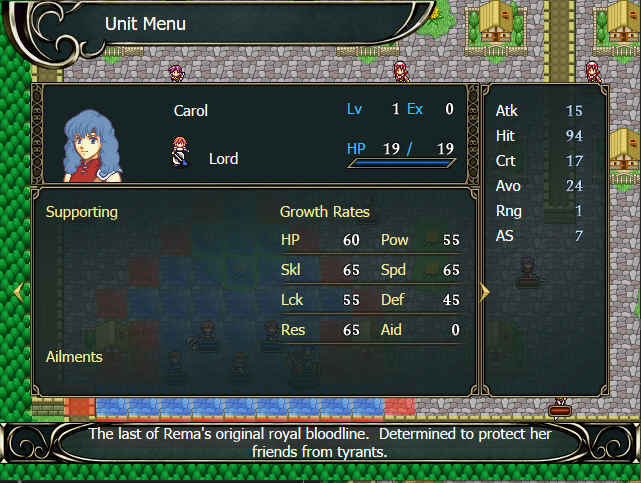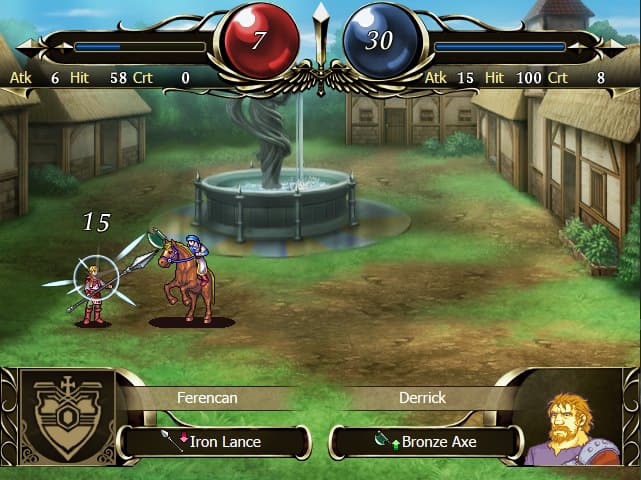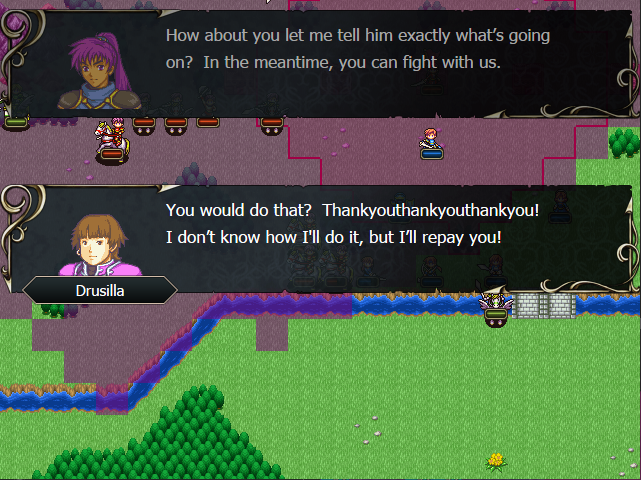 Known Issues:
Units' Staff ranges are visible if they're hovered over, but aren't taken into account for enemies when highlighting enemy ranges
Enemies may behave erratically after being refreshed by Dancers
Weapon Rank increase messages may display at the wrong time if battles are skipped
Weapon/item merging may not work properly when using a keyboard or gamepad
When reloading save files in battle, highlighted enemy ranges do not reset immediately; clicking on an enemy again will reset the highlights
EDITS:
(9/26/2018): The project name has been changed to make it less likely to be DMCA'd.
(10/15/2018): Spreadsheets of game info now available.
(10/24/2018): Link to project's Serenes Forest thread added.
(10/30/2018): v1.0 publicly released.
(11/1/2018): v1.0.1 publicly released.
(11/3/2018): v1.0.2 publicly released.
(12/22/2018): v1.1 publicly released.
(1/20/2019): v2.0 publicly released, link to project's Discord server added.
(5/21/2019): v2.1 publicly released. Screenshots updated.
(5/27/2019): v2.1.1 publicly released.
(11/15/2019): v3.0 publicly released, link to feedback survey added.
(7/2/2020): v3.1 publicly released, link to feedback survey replaced with link to character popularity poll.
(7/5/2020): v3.1.1 publicly released.
(2/16/2021): v4.0 publicly released.
(2/20/2021): New "Planned additions" section added.
(3/30/2021): v4.0.1 publicly released.
(2/25/2022): v4.1 publicly released.