Trailer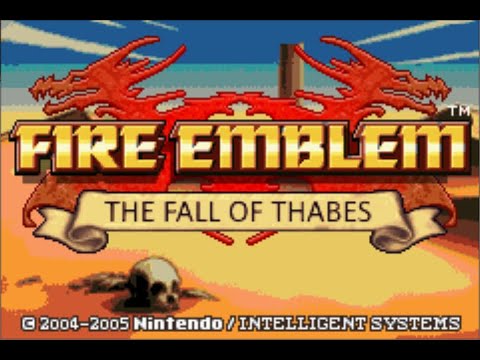 Original post here The Fall of Thabes
This is a fan hack of The Sacred Stones that takes place in the distant past of Archanea focusing on the final days of Thabes before Duma destroys it. There are 12(ish) chapters to playthrough. The game features the Gaiden magic system, though it is a bit buggy so this is an open beta until a better patch for that gets complete. Aside from that a full list of gameplay mechanics includes the following.
-Like in Thracia, Res is used for Magic and Resistance. This is better to have dual magic and physical users in the gameboy engine.
-A lot of dragon enemies. Also uses original Mystery of the Emblem's elemental effectiveness on dragons.
-Due to a large majority of enemies being dragons, there is no weapon triangle.
-No staves or healing magic. Originally this was because the Gaiden magic system proof of concept I was using didn't allow for it, but now I've designed the game around it. Elixirs are in abundance, but if you want a unit to heal, you have to take a turn out of combat to do so.
-Limited resources. There is no way of accessing the supply. So you have to be a lot more careful about what weapons you use.
-Trading works by SNES rules (ie it doesn't cost an action to perform) because managing resources is so important without a convoy.
-Most stat boosters now boost one point at a time, but have three uses. Stat boosters are also quite common, meaning choosing who to use them on will have a rather large impact on how you're army grows.
-Minimal cast, full deployment. There is no preparations screen at all. This is because there's a lot of stat boosters to be had and choosing when to use them rather than performing an action with a unit can be critical, especially in some of the later maps.
-No weapon ranks. The game feels too short to justify them, especially when you also have magic as a means of attack. Well weapon ranks do exists, it's just every weapon is set to E.
-Bonus EXP feature. You can give 100exp to any unpromoted unit, or 50exp to any promoted unit at the end of each chapter. Since there's limited deployment, this should help units that are falling behind to stay useful.
Download link Dropbox - FallOfThabesRelease.zip - Simplify your life
​