–Looking for playtesters, spriters, music people, and perhaps people with general knowledge of skill systems coding–
-Screenshots: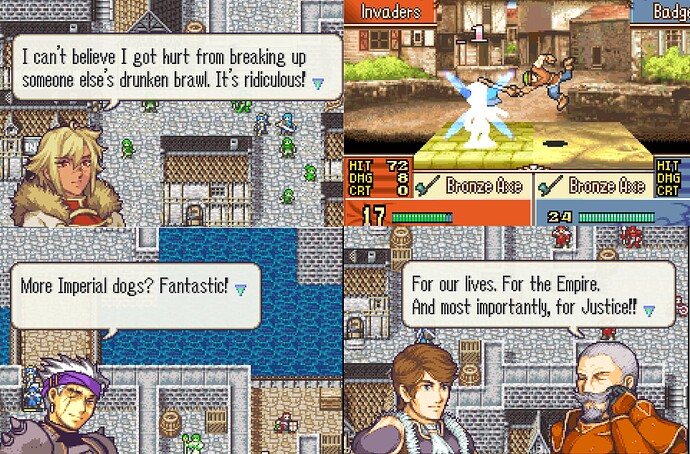 I am incredibly thankful for the support I have been given during the development of Steel Over Blood. I would also like to thank Yasako, Glaceo, BlindArcher, and HusbandoEmblem for the many commissioned portraits I have made them work on.
-Progress Report:
-Chapter 1 : Written 5/5 | Evented 5/5 | Balanced & Polished 5/5
-Chapter 2: Written 4/5 | Evented 5/5 | Balanced & Polished 4/5
-Chapter 3: Written 1/5 | Evented 4/5 | Balanced & Polished 3/5
-Chapter 4: Written 4/5 | Evented 5/5 | Balanced & Polished 3/5
-Chapter 5: Written 3/5 | Evented 4/5 | Balanced & Polished 1/5
-Chapter 6: Written 2/5 | Evented 2/5 | Balanced & Polished 0/5
-Chapter 7: Written 3/5 | Evented 2/5 | Balanced & Polished 0/5
-Plot:

The Ulkfold Empire is an old and mighty nation, finally reaching peace with its rival country, the Kingdom of Centaurus. At the cost of a small portion of the Empire's own land, the two nations maintained peace for over half a century… until Empire's Capital was suddenly attacked by invaders. An unpredictable invasion that came at the cost of the Emperor's life, bringing chaos to its people.

Confused and on edge at this unspeakable event, they pointed the blame at the Kingdom of Centaurus, shattering the peace between the two nations and bringing forth a new age of war.

Our protaginst, Lenora. A young aspiring knight of the Ulkfold Empire, filled with ambition and excitement for the future will soon learn that war is not as pretty as the storybooks have led her to believe. She and her comrades will inevitably follow a path against the interest of her own motherland and the Kingdom she swore to fight against. Discovering the true motive behind this gruesome war.
-Credit:
Commissioned Portraits Exclusively for Steel Over Blood (SPOILERS)
Portraits Used From the Repo

-Sphealnuke (Prologue Chapter Captain)

-CapibaraInSpace (Teresa | Chuck)

-Sphealnuke (Palmeria)

-LaurentLacroix (Lenora's Dad: Luther)

-Smokeyguy77 (Rudolf)

-Wasdye (Baldwin)

-XVI (Moriarty | Gronbérg)

-NICKT (Ludwig)

-Narumon (Empire Soldier)
Map textures:

-Zora (for the town map design for Prologue and Chapter 1)
-Zoramine Fae (For an Fe8 night-time tileset)
Music

-Sme (FE16 Edge of Dawn)

-SaXor_the_Nobody (Yggdra Union We_ll Never Fight Alone - Durant Sortie!)

-Dolkar (FE5 - Squadron A)

-hypergammaspaces (FE02 - Alm Player Phase 1 | FE02 - Alm Enemy Phase )

-Faranaja (Road Home)

-Psyche (Castlevania Order of Ecclesia - Chapel Hidden in Smoke)

-RSflame (Castlevania Portrait of Ruin - Bloodlines Bequeathed)

-Alusq (FFT - Anxiety)

-MrGreen3339 (MOTHER 3 -Memory of Life)

-Ristar (FE Echoes: Pride and Arrogance || FE Engaged: Bright Sandstorm || FE Awakening Jingles)

-Sokaballa (Gerudo Valley)

-Kascade VGM (It has to be this way)
Battle animations

-GabrielKnight (Unique female swordfighter anim)

-SALVAGED (Cavalries)

-Greentea (Sain cav)

-Narumon (Knights, Soldier, Female Pirate, Male & Female Myrmidon)

-Black Mage (Female Fighter)

-DerTheVaporeon (Twintail Archer, Female and Male War Monk)

-Leo_Link (Tellius Fighter)

-TBA (Halberdier, Phantom)

-Vilkalizer (Gladiator)

-Iscaneus (Male Brigand)

-eCut (Female Brigand)

-eCut v2 Repal (Female Warrior)

-FEGirls Baeserker (Female Berserker)

-Blue Druid (Griffon Rider)

-Ayr (Griffon Lord)

-Jj09, Leo_Link, DerTheVaporeon, flashuban (Dark Knight)

-Eldritch (Poltergeist)

-Pikmin1211, Jj09, 7743, Jey the Count (Malig Knight)

-Pikimin (Female and Male Dark Mage)

-Russel Clark (Female Mercenary)
Map Sprites

Pikimin, L95, Der, Glaceo, flasuban, Mikey_Seregon, Narumon, TBA, Rexacuse, Peerless, Alusq, Pushwall, Shin19, SALVAGED, Eldritch Abomination, N426, Blue Druid, Unkown
Weapon Icons

Beansy, Jubby, Zelix, Zarg, Zane, LordGlenn, Erishkigal, Celice, Orihara Saki, George Reds, 2WB
Special Thanks to Melledoneus, Apparoid, Xil, 7743, and several other FEU members of the discord community that helped me throughout the development of the game. And if anybody is interested in playtesting the hack, it is available in the FEU discord's playtesting channel as a thread.