So, those on the J&P discord and some other servers I'm in may have seen the project I've been working on as of late, simply going by the name Estria Remaster. Well, this is the formal post for said hack, now with its official title.
Justice & Pride Gaiden?
This hack is in the same world as J&P, albeit 20 years later on another continent. The story is mostly independent, although some characters and events from J&P are seen or referenced.
Estria Remaster?
Back when I first downloaded FEBuilder, I wanted to make a hack involving Estria, a fictional continent I made. However, due to inexperience, overambition, and questionable design choices, I abandoned the hack. Now, I aim to recreate that story.
Old vs. New
The original Estria was set in Elibe's world, the lore is now being changed to fit J&P's world

The original hack was a skill system hack, this is not

The story is pretty different from the original, as well as the cast, though some retain their roles and/or classes.
SCREENSHOTS
Some are taken from older builds, hence the different statscreens.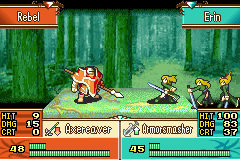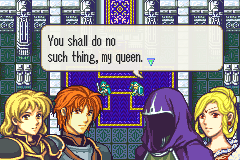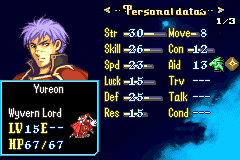 Continent of Estria

Estria, a continent to the west of Irona. Similarly to its eastern neighbor, one large empire makes up the majority of Estria's power. However, other nations co-exist with this empire. These are Barrea to the south, a plains nation known for its wyverns. The magic oligarchy of Theodoros lies to the east, and it is an isolated nation, yet known for its intelligent scholars and vicious sands. Indicus lies to the northwest, and this nations shares blood ties to the empire, as the founders, the sister of the current emperor, Timaeus, and her husband, Earl, left due to conflict with the emperor.
Story

In 1687 on the Estrian calendar (the two calendars are 1200 years apart), Caelia murdered Timaeus's father, Lionel, allowing Timaeus to become emperor of Estria. Left cold and bitter by this trauma, Timaeus's reign reflected his personality, leaving him labelled as a tyrant. 33 years later, in the year 1720, Timaeus's third son and 4th child, Prince Ambrose, begins a movement to reform his beloved homeland. However, this path to redemption will not be as straightforward as Ambrose wishes. With the aid of his cousin, Annabelle, leader of Indicus, he will take on the threats to the continent's peace.
Features

SOTF-inspired. While it's not a downright clone, some stuff is rather similar, such as highly accurate and mighty weapons.

New weapons to enjoy, such as the Bolt Bow, Edge Cutter, T2 reavers, and more devil weapons.

A ton of new music, from games ranging from Mario to Romancing SaGa.

Single promotions w/ single-weapon classes, again like SOTF.

Promoted lord units have a crit bonus in addition to swordmasters, assassins, and berserkers. Crit bonus is 25%.

2-3 range bows. 1 range bows only exist for stationary archer/sniper bosses.

Thieves can use daggers. They also promote to rogues, with Assassins being a separate class.

Expanded stat caps, albeit mostly for offense stats on most classes.

Valkyries use anima magic now.

Knights have equalized move.

Cavalry has half movement on stairs. Mounts, both cavalry and flying, cannot travel on pillars whatsoever.

Ranged swords do magic damage.
DL Link
https://drive.google.com/drive/folders/1aF10omXyhqT5DLpoLVuyJ5PHMbSX6erA?usp=sharing