Greetings, reader! I am XPGamesNL and this is my very first Fire Emblem Rom Hack that I have been working on. Fire Emblem The Prophecy Of Flames is a Rom Hack of Fire Emblem 8 The Sacred Stones.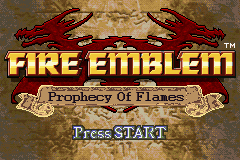 The latest version of Fire Emblem The Prophecy Of Flames:
https://drive.google.com/drive/folders/1dceNs3K01q8n56PAf5YgbfRAh1jdCvjV?usp=sharing
Join the Discord server to stay up to date to any developments made: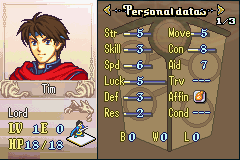 The story is about a young lord, Tim, whose parents died in a tragic war. Nonetheless he has lived a favourable life on the continent of Mirvania and in his kingdom: Gemania. Until he is ready to ascent the throne, Michael (his guardian) takes his place as king. The war may have ended years ago when he was still an infant, but the scars of that dark time still remain. When another war breaks out due to jealousy, hate, sorrow and grief, Tim is faced with the biggest challenge of his life. Not only will he learn more about the world as he knows it and the people that live there, but he will also be confronted with a hidden part of himself and his past…
This hack features:
A unique story that has no route split and around 30 chapters.
A world map with creature campaign.
Quite a bunch of characters that you will play with and have to fight agains
An optional special mode that switches characters around and serves as a harder version of the
vanilla experience. (This special mode is still under construction).
The magic weapon triangle is expanded with fire, wind and thunder magic now also playing part in the triangle.
No skill system.
A handful of new weapons, classes and items.
Unique background music and unique attacking music for each in game nation.
Wonderful assets, provided by the community .
A thank you to the people who have provided resources for the hack! This list contains the names of people who have provided materials for Fire Emblem Rom hacking which I have used. (If you are missing from this list please let me know! I would like to have everyone credited for their hard work!)
Nintendo
Intelligent Systems
P33RL355
Alfred Kamon
MK404
Pandan
PrincessKilvas
Spud
Blue Druid
Nuramon
Itranc
Velvet Kitsune
Skitty
MeatofJustice
DerTheVaporeon
Leo_link
Alusq
Mariah the Magician
Circleseverywhere
Kao
Marlon0024
Arch
Temp
flasuban
Rasdel
RobertFPY
Pikmin1211
L95
Sme
Psyche
If you want to re-use some of the assets found in my rom hack, you can check out this folder to find everything that I did for the hack myself:
https://drive.google.com/drive/folders/1yp6GKdiLCQyLm-Sv9kqwACX86QscOQLT?usp=sharing
Please credit me, if you decided to use some of my assets.
I would love to hear your opinion, advice and criticism. I want Fire Emblem The Prophecy Of Flames to be a fun and fair experience and that is only possible if you share your views! From gameplay to story, I would love to hear everything!
Have fun!