Considering my filler PME went absolutely nowhere at all, I guess I'll just unveil my real hack.


I've tried to make hacks before, felt I wasn't happy with them, and moved on to a new project that sounded interesting. This is like the 5th thing I've made, and it feels like the one I'll finally try to finish.
The Story (Warning: Text Wall Ahead)

The continent of Irona. Many years ago, the land was ruled by the forces of darkness. Monsters and dragons alike terrorized the small human populace in Irona. However, one day, a great sage appeared, commanding light and nature, and with the combined might of the sage and her allies, the monsters were sealed using the power of a mysterious tower known as the Spire of Darkness. Following the conflict, the warriors of legend went their own separate ways and founded their own lands, but they all swore fealty to the brother of the great sage, who was crowned Emperor of Irona.

500 years have passed since the time of the Hero of Light. Irona's Emperor Perseus, a descendant of the first emperor, Hawke, has been acting suspiciously. He and a mysterious mage named Caelia have been reawakening the monsters using the Spire of Darkness. In Norbury, a land on the western end of the continent founded by the master archer Quentin, Duke Robert dies of unknown causes. Tragedy would also strike the duchy of Abrein, a southwestern duchy founded by Bishop Leticia. The son of Duke Simon and descendant of Leticia, Prince Travis, is killed by a surprise ambush by powerful monsters on a scouting mission. This tragic chain of events throws the whole continent into turmoil, pitting the western duchies against the loyalist eastern lands.

11 years after the Great Tragedy, Travis's younger sister, Princess Aderyn, chooses to fight back. Together with her allies, she strives to save Abrein and to free the rest of the continent from the iron fist of Perseus's reign.
This hack was made using FEBuilder (and external programs when needed) aims to combine mechanics from across the series while combining unique spins on some aspects and taking advantage of all the interesting patches we have today.
Features:
Around 30 or so chapters planned (before gaidens), with 8 postgame trial maps planned (these trial maps will not be story-based, and will feature crossover characters and characters and maps from other FEs)

A rebalanced form of the Skill System, where each unit only has personal skills plus one class skill per tier, learned at level 10, as well as appropriate class-based skills (i.e. riders with Canto)

QOL Changes like removing glitches (i.e. enemy control) and adding HP Bars.

New classes like Malig Knight and Spartan.

Easy, Normal, and Difficult modes are available, as well as optional Reverse and Casual modes available on all difficulties.

Classes that use both physical and magic weapons (Str/Mag is renamed to Pow)

Wide arrays of custom music

Enemy archers and soldiers are stronger, and bows have Hit and Mt buffs

Promoted enemies are buffed

New weapons and items like Ice Shard, Worm, and stat-boosting Relics

Mines, Juna Fruits, and Light Runes make a return.

Revamped Devil Axe, now giving -5 to Lck, Def, and Res instead of backfire.

Easily accessible 1-2 range swords

A Tactics menu that gives tactical tips with other banter, inspired by Advance Wars: Days of Ruin.
Screenshots: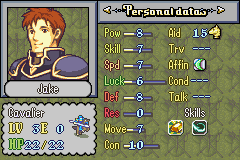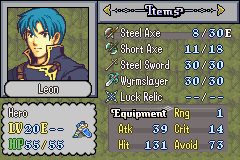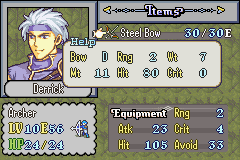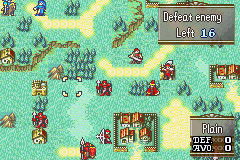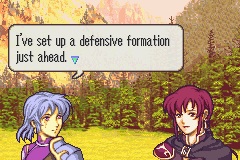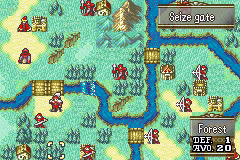 FEE3 2019 Trailer:

An official release is now out! Release 1 has the full main story, including character endings and gaiden chapters. It does not have completed supports, paired endings, or the postgame ready. You can access the postgame hub so you can keep your save when it comes out. I'll change things based on the feedback. Let me know if anything goes wrong.
https://drive.google.com/drive/folders/13gtI0LH6buaAg2tpdm4S4XdOTEce2xGY?usp=sharing