Fire Emblem Fallen Flame - A Fire Emblem: The Sacred Stones Romhack, by Zmr/Zaim and Co.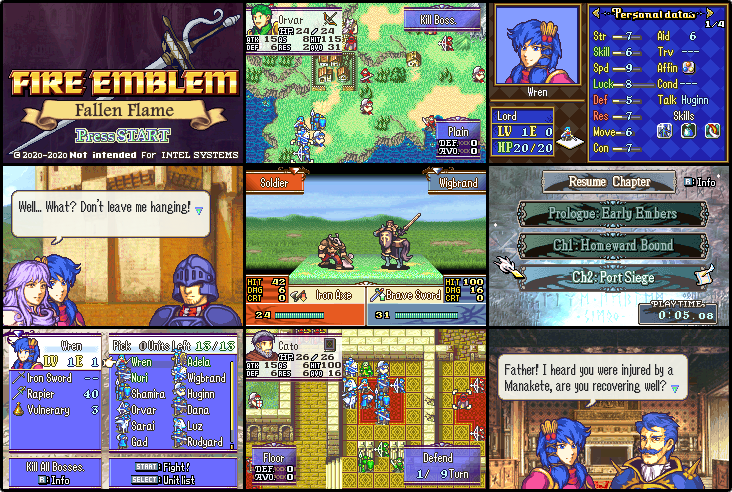 It's been long overdue but I've finally made the project thread for this hack. Fire Emblem: Fallen Flame follows the campaign of the Spectrum War from the perspective of Wren Osprey, which takes place during the year of 903 AA, in the continent of Balhutia.
The war is fought between two different alliances spanning the entire continent, the player's side comprised of the Blumari Kingdom, Eastern Viripurian Empire, Western Viripurian Empire and the Gofaul Free-Tribes. The enemy's side is comprised of the Wyvember Empire, the Golden Revolutionaries and the Gofaul Confederate.
Wren will embark on a quest to drive the Confederate invaders out of Blumari, crush the rebels in the Western Viripurian Empire and drive the Manaketes well away from the Eastern Viripurian Empire while work on a legendary weapon to weaken the Manaketes for centuries to come is underway.
Or to put it short, Wren has to kill some Dragons, along with her many friends.
Main Features:
Changed Weapon Triangle! The Weapon Triangle is now +3/-3 damage and integrates the physical and magical triangles as one. So that means Light+Swords beats Dark+Axes, which beats Anima+Lances, which in turn beats Light+Swords bringing it full circle. Or triangle.
Skills from the Skills System! New skills are also planned and some are already in even.
Quality of Life features also found in the Skills System.
Thracia style trading!
Modular Mini-Box!
No branching promos, keeping it classic.
Custom story, characters, portraits, animations, music, UI and map sprites!
Planned Features:
31 chapters. (Uncertain number of Gaidens planned.)
49 playable characters.
More custom classes not found in vanilla.
Free roam base chapters.
Custom supports.
Variety of objectives, from Defend to Escape to Multi Kill Boss to even Escort!
Known Issues That Have Yet To Be Resolved:
The wyvern reinforcement in chapter 4 on the left side disappears after attacking.
Some characters lack blinking/speaking frames because I'm lazy.
House/Village text has yet to be inserted.
Support bonuses have yet to be implemented.
Scene transitions are probably ugly, I'm not good at that yet.
Death quotes use Placeholder Text. You'll be seeing that a lot.
Credits:
https://docs.google.com/document/d/1V-5Prun13aXsNsno-mbQmKXU40zhlw9eXh-jhZcb-_U/edit?usp=sharing
If your name isn't on the credits and should be, please let me know! I will happily rectify the issue. I've done my best to make sure everyone is credited appropriately but if I've missed someone out, I apologise and will work towards fixing it. This project couldn't have been possible without the help of this community.
The Patch(es):
Alternatively, this guide also exists.
To apply this path on PC, please use the NUPS.exe. Once you start the NUPS Patcher after downloading it, click on, "Apply an UPS patch to a file" > "File to patch" and select a clean FE8 US rom. Then click "UPS patch" and select the UPS patch linked below. If you're an Android user, I would suggest using the Rom Patcher app. Same patching principle applies.
Please only play Normal Mode if you're intending to give feedback on the gameplay as well. Hard mode will only be worked on after the hack is fully complete on Normal mode.
WHICH EMULATORS CAN I PLAY THE HACK ON?
Literally any GBA emulator.
FOR OFFICIAL RELEASES:
https://drive.google.com/open?id=1POgOW_SuOPCnRoWUM2cxjKFbkTIa_IRu
FOR LATEST GIT RELEASES:
https://github.com/Zmr56/FallenFlameRep/blob/master/FE-Fallen-Flame.ups
Please reserve feedback for the official releases. Git releases are more of experimental builds.
Extra Notes:
Debug mode is being left in until the first 1.0 release.
"Edit Skills" is a debug feature.
Hard mode will be worked on after the first 1.0 release.
People can poke through my mess of a buildfile if they want, but please don't post spoilers found in side to others without marking them and warning them appropriately.
Pikmin says the hack is extremely epic. Thanks Pikmin.
And here's the discord. Please read the rules.
And the github. Feel free to be horrified by the state of the buildfile. Spoilers inside.
A gitbook guide for the game is planned for later down the line. It should serve as a good wiki resource.