[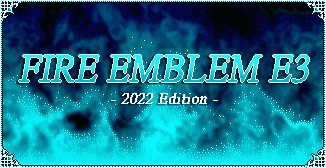 ]
Huge thanks to @Fenreir for the awesome FEE3 banner!
Introduction
Hey all! It's finally time for FEE3 2022, the 12th year of FEE3! FEE3 is a romhacking and fangame event where we will show off what we've been creating over the course of the past year. It's an exciting event that brings together the entire community and to share progress with them.
---

Overview
This year, we have 77 projects to show over 20 days, starting on October 15th at 12 AM Eastern Time ending on November 4th at 12 AM Eastern Time.
Like last year, we will be releasing videos every 6 hours, starting at midnight (12 AM) Eastern Time on Day 1. They will be available on the FEUniverse channel and collated into a playlist throughout the event's almost 3 week duration. Each video will still be viewable after they are shared, so don't worry if you miss it when they first drop! You can always catch up after the event.
---

Schedule
As the event progresses, links will be provided to each entry's video
All times are in EST, Eastern Standard Time
| | Slot 1 | Slot 2 | Slot 3 | Slot 4 |
| --- | --- | --- | --- | --- |
| Timeslot | 12 AM EST | 6 AM EST | 12 PM EST | 6 PM EST |
| Day 1 | Eternal Winter | Fire Emblem: Aletheia | Nuramon's Animation Showcase | Sacred Echoes |
| Day 2 | Of Sand & Sabres | Souls of the Forest | Justice & Pride: Book 2 Remake | Time For Tom: Thomas and Jake's Excellent Adventure |
| Day 3 | FE6na Hard Mode | Starlit Souls | Seasonal FE4 Remake | Fire Emblem Deity Device: Saint's Blood |
| Day 4 | FE5AD | Creating a Chapter in 16 Minutes | Lady of Masks | Fire Emblem: Dark Dragon Rebirth |
| Day 5 | Doubled or Nothing | Cerulean Coast | Parallel Emblem | Absolution |
| Day 6 | Legacy of Sorrow | 7 Siblings | Dreaming of Other Twilights | Legends of Avenir |
| Day 7 | A Vestrian Tale | Deg-Deg the Ravenous | Scourge of Proxima | Pokemblem |
| Day 8 | Iron Emblem: Gaiden | Fire Emblem Heroes Remake | Home By Winter | Tierra Maldita |
| Day 9 | Radiant Dawn: Daybreak | Project PURGATORY | Hikari Saga: Blades of Fate | Vesly's Patch Showcase |
| Day 10 | Carcino 803 | Fire Emblem: Unification | Drums of War | FE: BR (MOBA Emblem) |
| Day 11 | Elibe Continental Project | Fire Emblem: Embers Entwined | Lex Telephonis | Fire Emblem Sealed Hope |
| Day 12 | Fire Emblem: Ballad of the Bard | Host of the Dark | Blade and Claw | Fire Emblem: Ash Blossom |
| Day 13 | Prophecy of Flames | Fire Emblem: Vyland Saga | Touhou Emblem | Saga of Spirits: Aeon Compass |
| Day 14 | [FE8] Thracia 776 Link Arena | Tales of Kotor | Nations of Conquest | DSA |
| Day 15 | Project Stratagem | Genesis | | Cipher of Destruction |
| Day 16 | Fire Emblem: The Order of Frost | Tales of London | Fire Emblem: Path of Rebalance | The Last Promise 4: Revenge of the Promise |
| Day 17 | Lullaby of Lust | Fire Emblem: Genesis | Grug 2 | The Chthonic Curse |
| Day 18 | OC Emblem Redux | Fire Emblem: TMGC (Two Milkmen Go Comedy) | Fire Emblem: Wings of Dawn | Staff of Ages |
| Day 19 | Radiant Dawn: Exalted | Fire Emblem: Aurora Chasers | Shackled Power | Bells of Byelen |
| Day 20 | Void's Blitzarre Adventure 3D | | | |