People love trainees! And of course, as everyone knows, there is no such thing as too much of a good thing, so myself and a couple friends decided to take a joke way too far.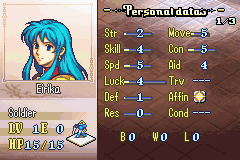 The Depromoting

This hack is, first and foremost, a version of FE8 where every unit is downgraded by a tier. Unpromoted units become one of 11 different types of trainee, and each trainee class gets two choices on promotion.

Example: Gilliam becomes a Male Recruit, with the choice between Knight and Cavalier upon promotion.

Prepromotes, on the other hand, become Tier 1 units, while keeping their higher weapon ranks.


Every potential option has either a vanilla or custom palette.


Even some bosses join in on the fun!

Misc. New Things

The Hunter class is a version of Thief that uses bows over swords. Colm and Neimi can both promote to it, but the former will have to sacrifice his sword rank. It promotes using an Orion's Bolt.
Most of the vanilla player phase themes have been changed to other songs. I'm pretty sure a lot of people are somewhat sick of vanilla FE8 music by this point, so I figured it'd be a nice change of pace. (You can find the credit for each song in the Sound Room. If the song doesn't have a listed credit, you can assume the MIDI was either from the original game or made by me.)
3 new characters have been added to the game. These characters join at the end of Chapter 6, the start of Chapter 17, and the start of Chapter 20 respectively.
There are a couple of new early items.

Other Changes

Chapter 2 has slightly weaker enemies than in vanilla. This is because it may have been a bit too hard otherwise.
The Bandit with a portrait in Chapter 5 is now considered a boss, and he brings a slightly different friend with him this time.
Ross has been made easier to save, as have Eirika route Dozla and L'arachel.
Ephraim route L'arachel and Dozla start as blue units, as does Innes's squad in C10 of Eirika route.
Assassin has new caps and promotion gains. It also uses bows.
NOTE: AUTO PROMOTION IS NO LONGER AN OPTION FOR TRAINEES! THEY HAVE TO USE THE TRAINEE SEALS FOUND IN THE PREPS ARMORY AND CHAPTER 5'S SHOP!
The link to the download, credits, and the document containing information on the trainee promotions can be found here.