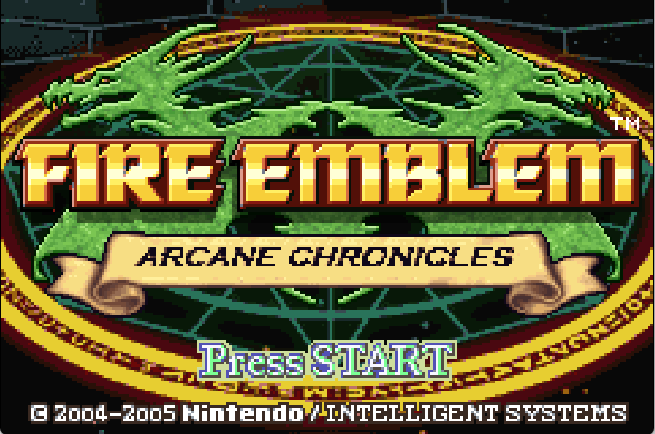 Hi everyone,
I've finally gotten around to release a Public Alpha (with 7/31 chapters done) version of my solo hack: Arcane Chronicles, made with FEBuilder and FE8 base, in around three months.
If you have played the first version: I didn't like where the story was going, and was thinking about rewriting it. Some characters return, but the story is totally different. I'm more confident in continuing writing this one. Thanks for your understanding.
Patch Download and Instructions​:
​You'll need to use a UPS patching tool, such as NUPS.
You can download the file here on Dropbox.
Plot

You will follow Zephyr, a young boy who grew up in a town called Stormwatch (in Ardenia). Zephyr is a regular blacksmith, until one day everything changes. He realizes he has the power of arcane arts flowing through him. He does not know when he got the power or where he got it from.
Zephyr's quest commences as the wants to figure out why he has this power. It is a vary rare trait as the last arcane masters were exiled to prevent them from using their power for the worse. This happend during the Faldorian War.
World Map
Screenshots









Hack features & Details

Story set in a new world.
5 complete chapters (plans to expand to 31 total amount of chapters)
9 playable characters (plans to expand ofcourse)
1-3 range Thunder
2-3 range bows standard (2-4 range longbows)
Custom Music (credits Sme & the repo)
Tons of amazing custom spells
Multiple secret items / weapons to be found
A lot of custom weapons​ & prf weapons
Magic triangle
Custom cutscenes
Generic female enemies.
Pared down skills to give units a niche without making anything wonky
Each class gets a skill at level 10, 20 unpromoted and at level 10 promoted. Thieves come with steal skill.
Universal promotion items (Master Seal)
Fog of War (no maps included yet)
No supports (will get to it in later update)
Notes

Anyone that feels the urge to help the romhack, like providing custom / better portrait, title screen background, please feel free to message me on discord.
Every piece of feedback is very much appreciated.
This is my first ever romhack and attempt at writing a story, please take this into consideration.
I started romhacking in January 2023.
Game is tested and should be played in Normal mode.
Known bugs

House north in chapter 7 has nothing.
Credits

XPGamesNL for almost everything I learned, and one of his mugs for Leonore.
@Sokaballa & @Fenreil for the completion of the battle screen & status screen
7743 for FEBuilder and willingness to provide technical support
Tequila for patches: Show Battle Stats w/ Anims off
​Circles Everywhere: Skill system
Zane for the modular mini-mug box, and Scraiza for the custom box.
Sme for magic sword rework
​Klokinator for compiling the Animations Repository, made my life so much easier. ​There's a few with credits, but most are uncredited, so apologies to those I missed.​
NickT for his collection of free-to-use mugs
MK404 for FE10 Fighter battle animation
L​G's sprite freebies
Capibara's F2U mug collection
Black Mage for Female Fighter
Temp for Female Warrior
The Blind Archer for Halberdier 2.0
​Subbastian for Wyvern Axe Map Sprite
Sme for FE3 music rips and amazing MIDI → GBA guide.
Alusq for the Armored Merc
AstraLunaSol for the M/F Soldier, map sprites, and battle cards
Team SALVAGED for cavalier, paladin, mercenary, and armor knight animations
Scraiza for the Bow Fighter map sprite
Sephie for the sword pegasus map sprite
Flasuban for the soldier M and F map sprites
Pikmin1211, Maiser6, Ukelele, SD9K, Temp, Black Mage, and Wan for the F!rogue repalette animation
Cipher Lee for Greil Lord animation.
L95 for horse map sprites and class card
Pikmin1211 for the MK404 F!fighter edit and map sprites
Wan and Pikmin1211 for the battle screen
HyperGammaSpaces for Sagittae
The whole repo
Please let me know if I forgot anyone
Discord link to communicate feedback: Arcane Chronicles