I have corrected it in the latest version. fe8_kaitou20220614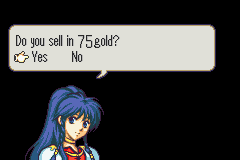 This is a problem that only happens with translated versions.
To compensate for the increase in data when translated into English, I came up with the idea of removing the Japanese font and implemented it, but this method seems to freeze when replacing the data with [G].
For now, we will try not to remove the fonts.
I can save about 100kb by shaving off some of the Japanese fonts, but I didn't think there would be such a freeze.
We are currently doing a major rebuild and may have some other issues.
Please let me know if you find any problems.