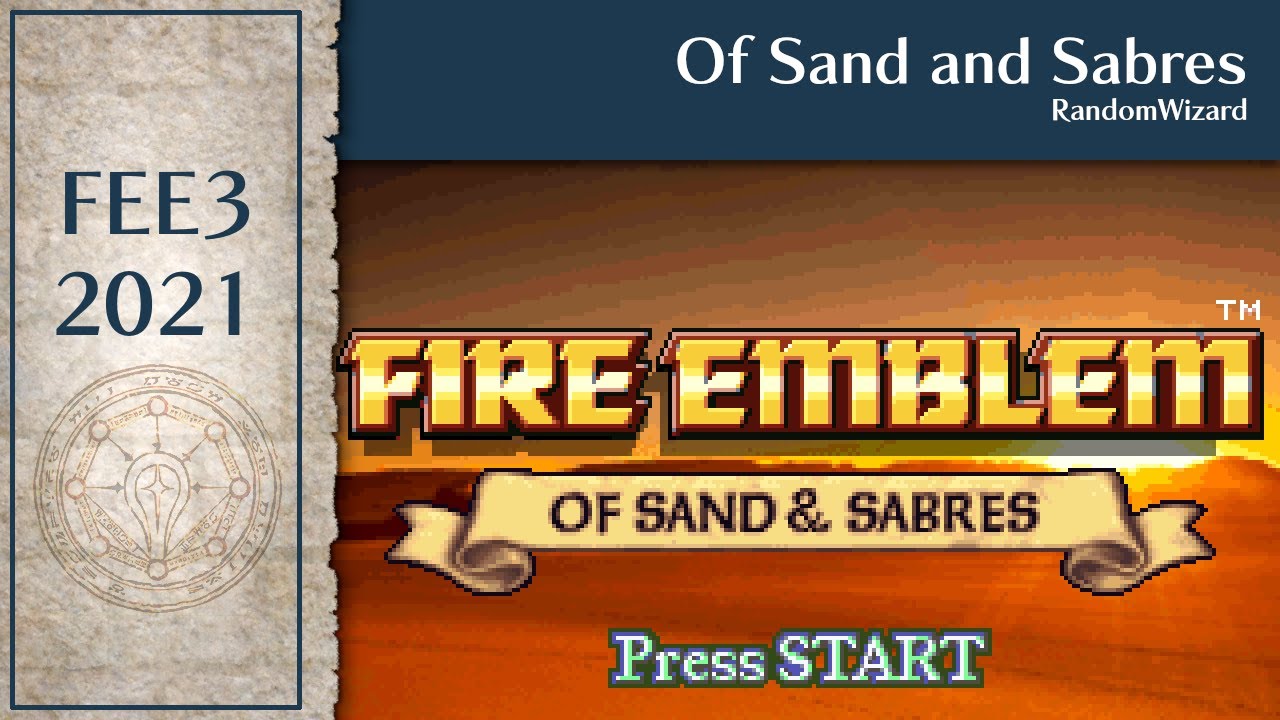 Fire Emblem: Of Sand and Sabres is a FE8 hack with a fully custom cast, story, and campaign! Currently, the first act (chapters 1-1 through 1-F) and some parts of the second act (chapters 2-1 through 2-4) are complete and playable.
The Of Sand and Sabres project is on hiatus, due to a general shifting of motivation; the current release in the Downloads section contains everything I have already made for Act 2. Play as much or as little as you like.
Features

Playable monsters!
Desert maps that are (gasp) actually fun to play!
A heavily custom soundtrack, aside from the FE8 songs that I haven't replaced yet!
Fun, unique, and interesting units!
Ironman-friendly design and gameplay!
Plot

Sundown, a bounty hunter and exile from his homeland, journeys to the deserts of the Frontier to seek respite from his past. A magical Sabre in tow, he and a new ally - the retired brigand chieftain Snake Eye - find their paths intertwined. They fight to protect both the town of Scorpion Hill and frontier-dwelling victims of the Empire's purges, and fend off threats from both their pasts.

They cannot run forever.
Credits

Sundown portrait: Xilirite

Moth portrait: Cravat

Ironhoof portrait: NickT

Jenny Lea portrait: NickT

Bowie portrait: MournfulRelic

Buckler portrait: LaurentLacroix, Hypergammaspaces

Gnasher portrait: LaurentLacroix

Cranberry portrait: Citrus

Deacon Hope portrait: Melliel, NickT

Darkdrake portrait: CirclesEverywhere, NickT

Inkhand portrait: Daff

"Aerdna" portrait: CapibaraInSpace

BLOODSTORM portrait: Sterling_Glovner

John portrait: ObsidianDaddy

Windfang portrait: Sterling_Glovner

Polar Knight portraits: Flasuban

Graknor portrait: L95

The Mayor portrait: Valak, Obsidian Daddy

Two-Tooth portrait: MournfulRelic

Honest Jon portrait: Sterling_Glovner

Aoibheann portrait: ZoramineFae

Five-Lance Fred portrait: Citrus

Lt. Alance portrait: LaurentLacroix

Kyklos portrait: Zaim, Sterling_Glovner

Gadfly portrait: Atey, Renoud, NickT

Haagenti portrait: NickT

Kharios portrait: Autonima

Pugnaccio portrait: WAve

Bloodhawk portrait: SomeDenseGuy

Haneadd portrait: MournfulRelic

Xiratsah portrait: JiroPaiPai

Watt portrait: Yasako

Vigilante map sprites: Agro

Vigilante animations: Orihara_Saki, Pikmin1211, Maiser6

Archer map sprites: MeatOfJustice

Archer animations: Leo_link, Spud, MeatOfJustice

Axe Guard map sprites: Pikmin1211, L95

Axe Guard animations: Waleed, Pushwall, Lord_Tweed

Axe Guard class card: L95

Bard animations: MeatOfJustice

Bow Tarvos map sprites: ArcherBias

Brigand map sprites: Flasuban, Skitty

Brigand animations: Flasuban, eCut, Skitty

Cavalier map sprites: SALVAGED, Flasuban

Cavalier animations: SALVAGED, Flasuban

Chief Thief map sprites: Glaceo

Chief Thief animations: Leo_Link, Nuramon, Spud, Sax-Marine

Confessor map sprites: Devisian_Nights, Knabepicer

Confessor animations: Devisian_Nights

Confessor class card: Devisian_Nights

Deathgoyle animations: Teraspark, L95

Deserter map sprites: Alusq, Knabepicer

Deserter animations: Alusq, Knabepicer

Deserter class card: Rasdel, Knabepicer

Desert Lord map sprites: Pikmin1211, Unknown

Desert Lord animations: Mercenary Lord, NYZGamer, Maiser6, Pikmin1211

Dread Fighter map sprites: Nuramon

Dread Fighter animations: Nuramon

Four Horsemen map sprites: Pikmin1211, Nuramon, DerTheVaporeon

Freeblade map sprites: Agro

Freeblade animations: TBA

Geomancer map sprites: Devisian_Nights

Geomancer animations: Devisian_Nights

Grand Guard map sprites: Dellhonne

Grand Guard animations: Nuramon

Myrmidon map sprites: Leo_link

Paladin map sprites: RobertFPY, Pikmin1211, L95

Pirate map sprites: DerTheVaporeon, StreetHero

Pirate animations: DerTheVaporeon, Nuramon, MarioKirby, Wan

Rearguard Knight map sprites: SALVAGED

Rearguard Knight animations: SALVAGED

Serpent Heir map sprites: DerTheVaporeon

Soldier map sprites: Rexacuse, Peerless, Alusq, WarPath

Soldier animations: Nuramon, Flasuban, JeorgeReds

Halberdier map sprites: TBA, blood, Dei, dondon151

Thaumaturge map sprites: Pikmin1211, DerTheVaporeon

Thaumaturge animations: Pikmin1211, GabrielKnight, Maiser6, Lisandra_Brave

Troubadour animations: Pikmin1211, Maiser6, Lisandra_Brave, TBA

Thief animations: Pikmin1211, Maiser6, Skitty, GabrielKnight

Trickster map sprites: StreetHero, blood

Trickster animations: Leo_link

Valkyria map sprites: CamusZekeSirius, flasuban

Vanguard Knight map sprites: SALVAGED

Vanguard Knight animations: SALVAGED

Villager class card: Ghast

Worldwake map sprites: Leif, MeatofJustice

Zouave map sprites: ArcherBias

Village tileset: N426, Zoramine, Vennobennu

Desert tileset: Hypergammaspaces, Zoramine, Vennobennu

Snowy Bern tileset: FEAW, Zoramine, Vennobennu

FF2 Town tileset: N426, WAve, Zoramine

Buffed Frontier Village tileset: Hypergammaspaces, Zoramine, Vennobennu, WAve, Pushwall

1-3 map palette: Zoramine

1-7 map palette: WAve

Bowie's Bow icon: XVI

Firefall Sabre icon: LordGlenn

Lucifer Pike icon: LordGlenn

Regnant Sun icon: GabrielKnight

Sandstorm Sabre icon: GabrielKnight

Assassin Edge icon: GabrielKnight

Parrying Sword icon: GabrielKnight, Ereshkigal

Prinzschwert icon: SacredStones

Quietus icon: Lisandra_Brave

Thief's Dagger icon: GabrielKnight

Vorpal Dagger icon: GabrielKnight

Glaive icon: GabrielKnight

Glaive-Guisarme icon: Zelix

Guardian Pike icon: Beansy, CardCaph

Heaven's Thorn icon: GabrielKnight

Warden Pike icon: Beansy

Surety Axe icon: GabrielKnight

The Bulwark icon: LordGlenn

Ballista icons: Celice

Bison Rifle icon: GabrielKnight

Coyote Rifle icon: Ereshkigal

Heavy Crossbow icon: Valak

Light Crossbow icon: Valak

Phoenix Rifle icon: Beansy

Wolf Rifle icon: GabrielKnight

Demon icons: Beansy

Leyline icons: GabrielKnight

Melody icons: CardCaph

Orb icons: Beansy

Virtue icons: Zarg

Wand of Flame icon: Zarg, Feier

Beer Bottle icon: GabrielKnight

Beer Barrel icon: GabrielKnight

Bronze Jewelry icon: Celice

Fine Wine icon: GabrielKnight

Fool's Gold icon: GabrielKnight

Gem Jewelry icon: Rootrick, Zarg

Gold Bullion icon: Zelix

Land Deed icon: GabrielKnight

Medal of Valor icon: Rootrick, Zarg

Pocket Watch icon: Beansy

Poultice icon: LordGlenn

Roll of Silk icon: Beansy

Silver Jewelry icon: Zarg

Song icons: XVI

Title screen background: Fenreir

Status screen background: Epicer, MournfulRelic

Playtesting: Leche, Godspetturtle, Rivian, Levin, ArcherBias, Epicer, SirSpensir, Roze
Screenshots




Download