Greatings. Today I have the pleasure to introduce you to: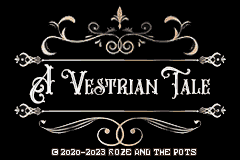 A Vestrian Tale is a FE8 Rom Hack created with the use of FEBuilder.
It is my love letter to the most volatile and pathos-laden aspects of the franchise.
Plot

Helena's Journal
Year 834, 17th day of the 9th month
Cloudy skies, light drizzle.

Yesterday we were approached by an individual whom I did not expect to meet in the slums of the capital. He was a bold man with a pompous disposition and commanding tone, clearly trying to compensate for his otherwise low status.

He claimed to represent a certain merchant of the Kingdom of Aragona. His lord was interested in a manuscript of recent discovery, unearthed by the Marquis of the Lafayette Province and her team of archaeologists. His patron was willing to pay a sizable sum to have that book in his private collection and, more importantly, was willing to overlook the methods involved in acquiring this relic.

Upon hearing this, Ezekiel's eyes were suddenly shining far brighter than the gold he was promised.

Amidst a thousand pleasantries and attempts to cheat each other, the two eventually agreed to do the job for the sum of 180,000 gold. When the mission was complete, we were to meet in a village south of Veronica.

Ginepro and I tried to dissuade Ezekiel from taking the deal, reminding him that we still had to lay low for at least a couple of months before attempting another job that large.

"Helena, my dearest, I can understand your concern for our safety, but think of all the good fortune these recent weeks have brought us. Our theft of the Love Promise, and the resulting bounty on my head, has led us to meet with this distinguished gentleman. At this rate, we'll be sailing the south seas of Vestria before you know it! Besides, aren't you tired of being little more than a chicken thief?"

Thus was his argument and although I do not share his opinion, the amount offered by our 'client' is difficult to resist.
Features

The game consists of ten chapters. It doesn't feature any gaiden chapters.
It features a new story set in the small nation of Vestria.
The player has 26 units at their disposal, all accessible in a single playthrough.
A Vestrian Tale borrows numerous mechanics from Thracia 776, namely True Hit, Thracia Trading and the 99% Accuracy Cap, as well as the Capture Mechanic.
The general game loop and its economy are based upon it.
To make the capture mechanic more organic, weapons and items have been rebalanced to better harmonize with it.
Moreover, the game presents a select number of skills that synergise with the aformentioned mechanic.
In order to create a more personal gaming experience and encourage replayability, each map features several secret events.
To satisfy the gambler that is in all of us, some of these events feature a risky but rewarding coin toss.
In the name of fairness, the majority of them are skippable.
Are you afraid of losing your game progress to an unlucky miss? There's nothing to fear. Every map features FE11 inspired save points.
The support system is not present in the game. However, in its place, there is a fixed number of interactions between characters per chapter.
Custom portraits, music, status screen and much more to satisfy your aesthete side.

For more information about game mechanics, please refer to the guide in the game menu.
Screenshots










Known Bugs

DO NOT CAPTURE near a breakable wall. You will target the wall instead of the enemy unit and consequently lose a turn.
DO NOT USE the Aged Cheese in preps. Funny stuff happens if ya do that.
In chapter 4, if anyone talks to Schmidt while holding an enemy unit, after the intended dialogue, a dialogue between Ezekiel and Yehoshua will play. It has no influence on gameplay.
mGBA was the emulator used during the creation of this hack. It is the one recommended for a more stable gaming experience.