Damn, you weren't kidding about all the weapons, eh?
This is a badass animation.
I've decided to rename the existing Kings appropriately, in lieu of this new addition.
First, we have just good old King Zephiel Vanilla, +Weapons.

Next, we have the Bulwark King, added by Leo Link and Sax Marine. Bulwark, because it has a shield.

And finally, Huichelaar's Kings, the original and the repalette, are the Legion Kings. Because their helmet is kind of Legionnaire-y?

Remember back in the day when all we had were the Vanilla FE6 Zephiel King animations? Just a sword and an unarmed?
This community is great
The increasing numbers of battle sprites of the Kings are amazing! Look how far we gotten.
I couldn't help but notice the legendary sword and axe animations have a slight… Discolor issue when using the ranged segment of the animation.
They have the issue while dodging too.
Is that intentional?
The animation is still good… It's just jarring to see the sudden discoloration.
hm?
OH
OH SH
T
DAMNIT I DIDNT EVEN NOTICE THAT
Imma fix that brb thats gonna take me a bit- oh my god no theres so much of it too OH MY GOD WHY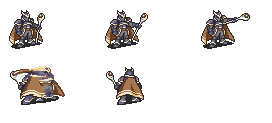 staff sprites for harbinger
Ross to Garcia: The future is now old man
Are those miniature tanks?
Are those the tanks and tiles from Battle City, that one NES game?
Because Advance Wars is the best Fire Emblem game
I felt the repo could have some more different content, So I thought: Why not bringing a lot of random things from other games? :v.
the face look like kaiba from yugi oh
looks like you guys really want them battle stances, so there you go:
Ronin Warriors - Ryo Sanada (default + variant)

also, an upscaling for the details:

you wanted samurai? now you got samurai.
i'm not done yet though, i have still 3 mugs to do, and 4 battle stances for each of the Ronin Warriors characters. stay tuned~
I keep getting an Error! Server failure or wrong URL when trying to download anything from the repository on GitHub. I was wondering if it's not working on my end because of bad internet connection or maintenance or something causing me to keep getting errors.
I really should have made this post a long time ago, but I keep forgetting.
The download button on Github is a barely functional piece of miracle technology. Do not rely on it. If it works, great. If not, use Gitzip.
I am specifically referring to the download buttons attached to animations.

This download button doesn't always work. If you try it and it fails, oh well. There's no fix. Sometimes it does, and sometimes it doesn't.
Instead, download the browser extension Gitzip.
Look in the Advanced User section.

And that's it. Gitzip is easy to use. Just use it, and all your problems will go away.
(Note: If you're living in the year 2021 and you're not using a modern browser like Chrome or Firefox, man y'all gotta get your lives in gear!)