Very simple question:
What are the weirdest or the most obscure ships in FE you actually like?
Sue x Roy is wholesome and amazing and I will fight anyone who disagrees
what if… we took the fleets… and put them in a boat chapter
FE6: I tried Cecilia x Roy. Kawakami x Joker of P5 before they were cool.
FE7: Ghast was right, SainCilla should have had an ending.
FE8: Forde x Eirika? Underrated.
Teacher X Student was never cool
Yeah, admittedly, it's only cool one way. Make it the other way and people scream pedo.
̶E̶p̶h̶r̶a̶i̶m̶ ̶x̶ ̶E̶i̶r̶i̶k̶a̶.̶ ̶
I̶t̶'̶s̶ ̶n̶o̶t̶ ̶l̶i̶k̶e̶ ̶I̶ ̶c̶o̶n̶s̶i̶d̶e̶r̶ ̶i̶t̶ ̶c̶a̶n̶o̶n̶
it sucks that IS is so picky with pairings
lilina x roy is the annoyingly obvious intended roy pairing that it hurts that every other pair is basically nonexistent.
We have all the heroes refrenses, the fact that roy x lilina grows the fastest, the fact you get a free C support between roy and lilina, the fact that fe7 references lilina and roy in Eliwood and Hector's supports and hector is defensive about it. It all screams like IS wanted Lilina x Roy to be canon but they felt obligated to give him different endings which sucks because Lilina x Roy has to be the most boring chain for both of these characters. Roy has Sue supports and Lilina has Gonzalez supports.
I'd absolutely love a bride and groom Sue and Roy in Heroes just to at least acknowledge that they can marry at the end of fe6.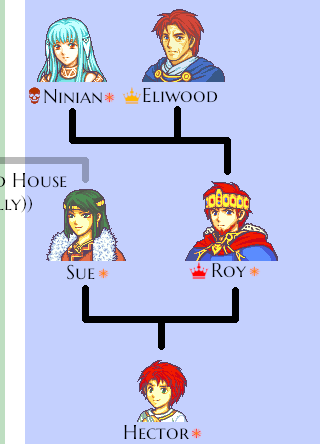 For now we have only this.
Well, here's mine.

Yeah, Cecilia is beauty. And quite valuable in combat too.