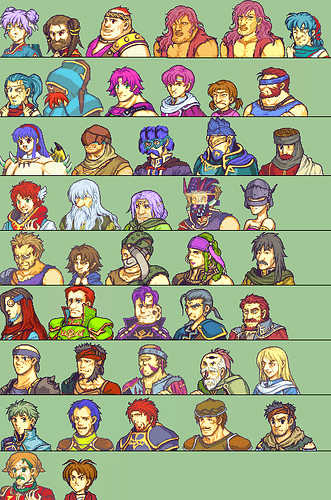 You heard the Shtick,
We've got a full cast of cruglies here with the potential to become the greatest ragtag crew ever assembled in a Fire Emblem fan game (yes, even better than [insert your favourite fan game, mine's probably Avenir]).
Together, we'll try our best to get the ball rolling for these abominations.
The "Contest":
For your character(s), come up with:
Their name
Their class (prepromotes/trainees are on the table, just be reasonable; assume vanilla FE8 classes)
Their backstory (6 sentence paragraph, maximum)
2-3 character traits
And for @Runa's Personal Info page shenanigans:
Two Likes
Two Dislikes
Age
Height
In the backstory write up portion, focus on the character, not the setting. Feel free to include generic nouns in [ ]'s (e.g. After his parents died, Jim enlisted in [Kingdom]'s army). I know it's weird to create characters in a vacuum like this, the trick is to not worry too much about it.
Lords:
3 units will randomly be determined as lord units during the divvying out part. Given that lords are unique, you can ignore the class restrictions listed above and just list which type of weapon they'd use at tier 1 and if they're mounted or not (we've got animations for everything nowadays) instead.
In addition, lord units get an additional 6 sentence paragraph dedicated to describing what they're lords of (kingdom, country, etc.). If they're a non-traditional lord like Ike or Micaiah, feel free to use this paragraph to flesh out whatever faction they're the 'lord' of instead.
How To Join:
Just reply here, I'll add your name to the list. After we have enough names I'll randomly divvy out the mugs to the participants (2-3 each? I'm assuming we won't land 22 or more people for this, we've got 44 characters to work with).
The Prize:
(See 'The Goal')
The Goal:
To have fun and maybe set the foundation for 2021's masterpiece if somebody wants to run with this questionable cast that will indeed, be the motliest crew that ever graced a Fire Emblem fangame.
There's no real deadline after they've been divvied out, and you don't have to keep your characters secret, you can collab with other participants if you'd like. This is all for fun.
Can't wait to see how many brooding edgelords this results in.
Preemptive:
"But Chair, you can't write a compelling and interesting character in 6 sentences along with a few character traits, Fire Emblem characters have so much more depth to them that boiling them down to simple and easy to understand concepts would be doing them a disservice!"
Checkmate, Mr. Strawman