A small quality-of-life modification, this hack changes the box that pops up when selecting a target to heal from this (current hp/max hp):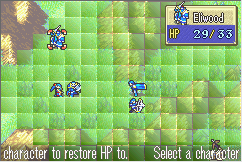 to this (current hp -> new hp; uses the green palette if maxed):
It was easier than trying to expand the box to show max hp, and I'm lazy. Download here. Shouldn't need a readme or anything; just patch with EA as usual. FE8 version will be coming soon.
EDIT: FE8 version included. The EA file is the same for both 7 and 8; just make sure you select the right game, or you will probably break things.