I've been doing splicing for quite a bit now as I've been toying around with FEXP and other smaller projects. Here's some stuff I figured is pretty enough to show to the rest of the world:
Portraits: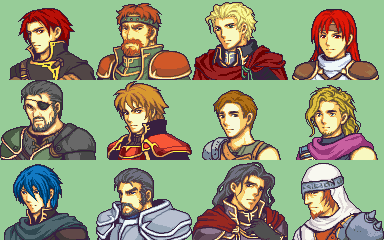 Nothing much to say here. These are all original characters, minus the blone-haired guy in pink, which was a self-portrait I whipped up for Mangs' FE8 Patreon PME. If you wanna use them, do remember to give credit.
Battle Sprites:



I did a dab edit of the mage animations once. No comment there. Also I meant to start working on some dread fighter animations using some of Hector's sprites.