Welp already bored of this. Goes up to the route split for most of it, Eirika's choices are complete though.
Since I'm a certain sort of lazy all pairings are chosen on a chapter you would technically have both characters (Being dead/not currently in the party doesn't matter)
To reiterate, as this is just a proof of concept I did up for fun and wasn't intended to be a full hack, I just wanted to see if I could make child characters that could change depending on chosen parents specifically in a single character slot each and pretty much got it, so that's my curiousity dealt with for now.
As with the skills as growths the only way I can think to do palettes for everyone would be rather inefficient, that is to use the custom animation things, so a separate animation for everyone entirely for hair colour or something. Or you could just do what Holy War does and not have different hair colours to denote the opposite parent but that'd be boring.
This could of course be used for a Holy War like thing with a proper generation 2, but I did it this way because I'm highly lazy and just wanted to try to play with something fun with the least effort possible. On to the next distraction (or i should get back to any other project).
There's text files for stuff to reference off of if you want to screw around and complete this, but eh. Would be nice to see use of a generation 2 done in a finished hack for once.
---
Just a fun stupid little proof of concept, I probably won't be doing more with this, but if you want to take a look inside and poke at everything or just flat out use this as a base please feel free to. Here it's all one character slot, and the 'father's' stats are added via event stuff.
If you want a way to change growths while only using one character slot, the only thing I thought was to have a skill or something for each possible parent based off of Aptitude to add growths or whatever, but that seems highly inefficent unless you're not actually using skills or something. I dunno if it's possible to change growths ingame without ASM which I know nothing about.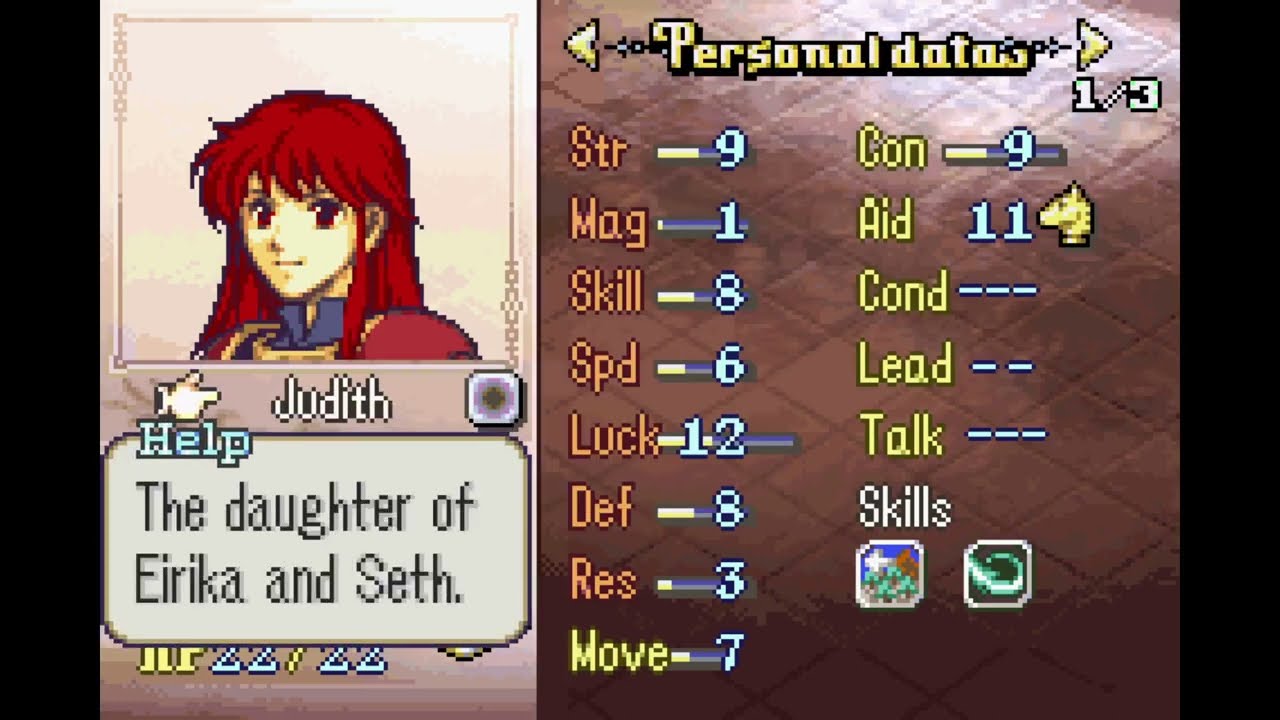 Credits

Judith - MrGreen3339
Micah - XVI
Clio - XVI
Lorcan - Toa
Duncan - Toa
Harriet - Nickt
Saffi - Peerless
Isidore - Toa
Olezka - SSHX
Miriam - SSHX
Irma - Sme
Chrysanthos - Levin64
Joel - XVI
Letitia - MeatOfJustice
Fiadh - SirNicee

Female Summoner - FEGirls, RiriK

Skill System - Circleseverywhere, Monkeybard, Black Mage, Blaze, Tequila, Rossendale, StanH, Leonarth, Teraspark, sd9k, Kao, blademaster, Snakey1.
Switch Portrait images by class, flag - Scraiza
Set Unit Status - 7743
Toggle New Game Text - circleseverywhere
Skip the event using the opening world map - 7743?
Switch Unit's description by class, chapter, flag - Runa, 7743
GetSupportLevel, SetSupportLevel, ClearSupportLevel - 7743
Prevent Freeze For Camera Event 0x26 - 7743