Hi everyone! I'm here to share my first ever Romhack. It's a pretty simple one, but we all have to start somewhere!
I recently downloaded FEBuilder to play around with, and the first idea that popped into my head was adapting @Xetetic's very amusing "Oops! All Amelias" concept to my favorite FE game, Binding Blade.
So I present: Oops! All Sophias!
It's exactly what it sounds like. FE6, but every character is replaced by Sophia. This means that they are all Shaman/Druids with Sophia's portrait, and they all have Sophia's growth rates. Each character's bases are Sophia's bases autoleveled to whatever level the unit joins at*. Each characters weapon ranks are translated into dark and staff ranks. Affinities and supports are unchanged, however.
All weapons in chests, villages, and player character inventories have been replaced with the equivalent rank dark tome. All lockpicks in these locations have been replaced with chest keys. All promotion items in these locations have been replaced with guiding rings. Soy also promotes with a guiding ring now (the forced promo event at the end of 21/21x is skipped). Flux has been added to the prep screen shop (on Hard Mode, though, you'll have to wait until chapter 13 to buy weapons, so conserve your uses).
I changed the dialogue for a few villages to reflect the fact that they're now giving you a tome instead of a sword or something, but for the most part, the story is identical to the original game, and does not acknowledge at all the fact that everyone is Sophia. Characters also have their default palettes, some of which look good as shamans and some of which do not. I don't recommend playing this hack unless you're already pretty familiar with FE6, because it definitely makes life harder.
I have played this hack through to the good ending on Hard Mode, so while it's definitely a good challenge, I know that it is possible to beat it without rigging (you probably have to accept some deaths in the early chapters, though). It was also a lot more fun than I expected a mono-class run to be, although your mileage may vary.
Hard mode is unlocked from the start if you want to challenge yourself.
Big thanks go to:
-Gringe and co. for the original translation patch this is built on
-Xetetic for letting me blatantly steal his idea.
-The folks in Mekkah's Keep who enjoyed and commented on my playthrough of this hack and encouraged me to share it.
Link to the patch (apply to a clean FE6 ROM): Dropbox - OopsAllSophias - Simplify your life
Screenshots: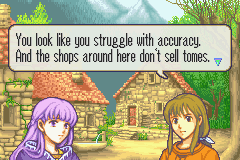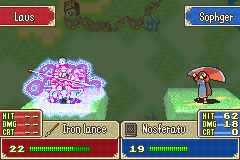 *The way that this works for prepromotes is a little bit complicated. Instead of uniformly assuming level 15 promotion or something, the level that a prepromote Sophia is assumed to promote at scales up over the course of the game, in an effort to make all of the prepromotes at least temporarily useful. Marcus!Sphia is a 10/1 Sophia, while Karel!Sophia is a 20/19 Sophia and everyone else is somewhere in-between. Specifically, the level that a Sophia is assumed to promote at is round(joining chapter/3)+10, where joining chapter is the chapter number when Gaidens are included. Thus, Garret!Sophia, joins in chapter 15, which is the 18th chapter including Gaidens, so she is a 16/1 Sophia (and she gets hard mode bonuses on top of that!)