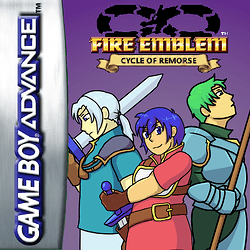 Hi guys! After around 5 years of on-and-off work (probably around a year of cumulative work tbh) I am ready to talk about my project Fire Emblem: Cycle of Remorse!
Download Link: Dropbox - Cycle of Remorse.zip - Simplify your life
Story

Within the continent of Yondo lies five nations: Merinas to the north, Fuegsol to the south, Foliaga to the east, Oregot to the west, and Medeas in the center. Krista, the princess of Medeas, sets off to investigate mysterious happenings in Foliaga. She soon discovers that there may lie more sinister things underneath the surface of Yondo's supposed peace. Although, Krista herself also has something she has to hide…
Features

Original characters, maps, and plot
Linear class progression
Playable units have Personal Skills
Supports Ranks implemented. (Support conversations still need to be written for most pairs, but pairs will still get support bonuses.)
13 playable chapters (so far) (Prologue, 10 main chapters in the A route, 11 main chapters in the B route, and 1 gaiden chapter)
Screenshots









Content Warnings

Alcohol reference
Mild language
Suggestive themes
I also made a dedicated website to act as a database for the game here. It is still very much a WIP as I continue to work on the game. (The database has been updated as of v0.7.1)
I also stream myself working on the game every Monday at 2PM CST on YouTube! Come stop by if you've got the time!