Fire Emblem: Midnight Sun was the first full-custom FE8 ROM hack, released in 2014. It was really popular back in the day, being downloaded more than 90,000 times, but in 2017 it was cancelled for personal reasons.
I never abandoned that dream though, and in 2019 I announced "Path of the Midnight Sun", a full-fledged indie game which is a spiritual successor to the FE hack.
After 3 years (and over 10,000 hours) of development, Midnight Sun is ready to be released in Q3 2022!
You can watch the newest trailer here: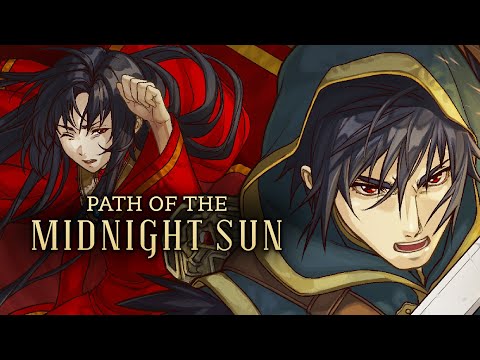 If you like the game and/or you'd like to support us, PLEASE WISHLIST THE GAME ON STEAM, it helps a lot due to how the Steam algorithm works. And it only takes 5 seconds. Thanks in advance!
Content overview:
Choose your own Adventure
Every choice matters in this story-driven game with its compelling and dynamic narrative.
Influence your characters' stats and unlock new combat & romance options!

Beautiful art animated in Live2D
All of the art in Path of the Midnight Sun is hand-drawn and animated with the Live2D technology to fully preserve the artist's touch.
There are over 150 models in the game!

Fully orchestrated SoundTrack
Every track in the game has been carefully planned and composed with a lot of love.
The OST features more than 3 hours of orchestrated music!

Professional Voice Over
More than 50 characters have been voiced by professional voice actors who have big roles in the anime & gaming industry!

The tactics of an RPG with the narrative depth of a VN
Path of the Midnight Sun has its own gameplay twist. We wanted to create a fresh and unique gameplay experience.

Interact with the world!
There's a lot you can do in the world of Arvium. With a point-and-click system, you can investigate the locales to uncover mysteries and collect materials used for forging & cooking.

Customize your characters
Every main character has a flexible Skill Tree which fosters replayability. In addition to that, their relationships and mental state also influence their proficency in combat.

Recruit Adjutants
During your adventure you'll meet many characters that can be recruited to aid you in combat. These Adjutants expand your team's tactics for ever-changing combos and possibilities!