It's the holiday season, and Christmas in Elibe is in trouble. Can Hector step up to the task and save the day?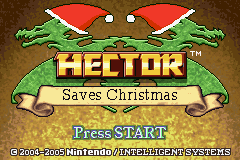 This FE8U hack features 1 fairly long and challenging chapter, differences depending on the difficulty mode, fully custom (and festive) music (minus title screen), multiple endings, and more!
Changelog
Version 2.2:
-Buffed secret characters
-Edited enemy weapons
-Edited phantom weapon list
-Summoning now only gives 1 exp (so you can't grind off summoning as easily)
-Had accidentally deleted part of ending conditional, fixed and fully working
Version 2.1:
-Further nerfed boss
-Fixed ending conditionals & text
Download
Version 2:
-Fixed stats
-Fixed weapon ranks
-Death quotes
-Fixed text
-Fixed everything else I could find that was broken
Thanks to @MrKarkino for helping work out the kinks
Credits:
Shin19's FE6 mugs with blinking frames
EldritchAbomination's FE7 mugs in FE8 colours
Snakey1 for helping sort out some eventing things
Lenh for some help with rhyming touch-ups
Design, Strategy, Etc. (May be helpful if you're having a hard time)

There are 14 villages on the map. They can be visited in any order you wish, and all events are tied to the number of villages you've visited. Therefore, you as the player can directly control the rate of events in the game. You can route it to get very strong weapons from one of the two secret shops before Narcian even appears, or you could recruit the 2 secret characters. You have more control over the game than you most likely realize.