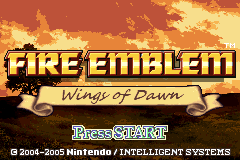 Hello everyone. I'd like to share my first go at a hackrom, titled Fire Emblem: Wings of Dawn. This is a hack of FE8U created in FEBuilder, and the current build contains 13 fully playable chapters out of a planned ~30. This is a gameplay-focused hack which aims to capture the magic of old school Fire Emblem, and draws much of its inspiration from the Kaga era.
Gameplay

WoD prioritizes uncomplicated and elegant gameplay, while still allowing for player creativity and expression. Skills are primarily limited to series staples, and stat values themselves are rather low in order to keep computations straightforward and easy to calculate. The map design and side objectives reward strategic movement and efficient use of every action. I try not to go overboard with enemy quantity, but enemies hit fairly hard and accurately.

I personally prefer to play past unit deaths, only tending to reset in the most dire of circumstances or when I lose a favorite unit, and the hack is designed to accomodate this playstyle. The cast is large and units generally can contribute effectively without investment. Growths are relatively low, allowing units to come off the bench a few chapters after joining and still make an impact despite missing out on level-ups.

Some other features to give a sense of the gameplay:

TRS style promotion (level does not reset). Promoted classes do not receive reduced experience.

DSFE style avoid (Avoid = Attack Speed + Luck)

Magic types merged into one weapon type (light/dark replaced by daggers/ballistae)

Unit inventories sent to convoy on death

Additional objectives, including Thracia escape and defeat multiple bosses

Limited durability and an emphasis on resource management

Str/Mag split and hybrid classes such as sword troubadours

The usual "QOL" including Thracia trade, actions after talk, etc…
Story

The story is meant to be economical and to pay homage to some recurring themes and tropes of the mainline series (hopefully without the requisite pitfalls). Writing is not particularly interesting to me, but I tried to come up with something relatively entertaining.

To make up for my lack of affinity for writing I try to make the most of the FEGBA event engine in order to engage the player visually.
Difficulty

Hard mode should be fairly challenging but it shouldn't veer into "lunatic" territory, and is intended to be suitable for a blind playthrough. Normal mode is largely identical but enemies have fewer autolevels.
Screenshots














Credits
Known Bugs and Oversights

The save slot color does not display as intended (changes to back to red).

Some sporadic pieces of dialogue are not yet written (parts of Ch. 3 End, Ch.7 End, Ch. 8 End, Ch. 9 Start, and 13x).
Thanks for checking out my hack! This project has not received any outside playtesting so I could definitely use some feedback. I appreciate anyone who gives it a go in its current state.