Hello I'd like to introduce the project i'm working.
It's going to be a project with 38 Chapters : Uniques maps made by myself. custom animations and else…
The Forgotten Realm :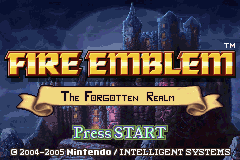 I'm kind bad with stories and introduction but let's go anyway…
Introduction

100 years ago, "???" fought demons and dragons. One day "???" got touched by a disease that killed "her" due to her lack of strength. "???" got devastated by her death, so he decided to find a solution to make her reborn from the deads. He had to fought and extract a stone from an Ancestral Dragon and sacrifice one of its organs to make the spell works.
The spell did work, but unfortunately, it seems she shown up in a different form and her memory got erased. Due to the high power required for this spell, it created an earth quake that warps out her from their world.
She wakes up in the human world with no memories at all. She's going to meet people that are going to help her to make her remember what happend…
Screenshots
Gameplay

A main character is on the line. with some characters that are gonna be present on most of the cutscenes.
Characters Hp limits can reach 70, it's gonna depend on the class aswell.
A custom animation that you didn't see anywhere and is gonna unique for the main character unpromoted and promoted(currently in progress).
Battle theme and BGM most of them are from the music repository threads.
I don't know what else i can say, like i told you i'm bad for writing .
Recruitement Guide

Chapter : 3
Make sure Seifer is Alive if you wanna recruit the characters that are coming.
Chapter 4 : Character recruitable by Nefertiri.
Chapter 4x : Make sure that Seifer is still alive.
Chapter 5 : Character recruitable by Axel.
Chapter 6 : A character is recruitable by Vain. Make sure that this one is alive.
Chapter 8 : Ethan recruitable by Axel.
Support Conversations

Not added atm.
Credits

Damo
Shyuterz
RandomWizard
Klokinator
DerTheVaporeon
AmBrosiac
MeatOfJustice
LordGlenn
XVI
Chapters

Prologue : Completed
Chapter 1 : Completed
Chapter 2 : Completed
Chapter 3 : Completed
Chapter 4 : Completed
Chapter 4x : Completed
Chapter 5 : Completed
Chapter 6 : Completed
Chapter 7 : Completed
Chapter 8 : Completed
Chapter 9 : In Progress
Every mugs used in this rom are from mugging blitz.
The missing mug actually is the main character portrait which is Eirika btw x)
The portrait is in progress but it's going to come up soon on the next update.
I work everyday on the project, there may be some mistakes with grammar or else.
I accept criticism only constructives ones.
My knowledge with eventing is not perfect aswell but i tried to make it fun and adventurous.
Btw : Main character (Nefertiri) battle animation and portraits and promoted map sprites is not F2U or F2E. not at all.
Only 8 chapters are playable atm. Currently working on the others atm.
Sorry for my lack of grammar or writing in english, french translation is not actually and some words are a bit confusing x)
Hope you'll get hype with this opening of this new Project.
A big thanks to @SHYUTERz that helps me with the project.
See you soon,
Regards,
Hian
Link : Patch to a 1997 - Fire Emblem - The Sacred Stones (U)(TrashMan).gba
https://www.mediafire.com/file/5ztqh2tgd5otcgi/The_Forgotten_Realm.PATCH.20210106021545.ups/file
Make sure you play in VBA. not another emulator.
Next Release : Coming Soon