The original FE6 remake is nearly ready.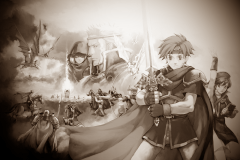 This project has been well over 10 years in the making (no joke)! All in an attempt to add a little extra polish to the original Binding Blade. Let's be honest, out of all the things I could have put my time into, I decided to finish off a project that has been left on the shelf for far too long - and that has 1000 other spiritual successors in the works. Crazy - I know!
So, what is The Binding Blade+ (FE6+)?
FE6+ is a port of the original Binding Blade over to the newer FE8 engine. The hack features all the modern conveniences of a mod built on top of FE8. All this comes alongside improved graphics and minor gameplay alterations to help improve your FE6 experience. For the most part, FE6+ remains faithful to its origins. Where changes have been made, they try to stay faithful to the spirit of the original game.
What changes have been made?
Graphical overhaul: maps, portraits etc.
Select branched promotions
Improved Gaiden chapters
Expanded script
Earlier promotion options for Roy
Health bars
Limited skills (for select units)
Much, much more
---
Screenshots
Credits

Art Assets:

[WL Reskin] [U] Armored by Nuramon
[T3 Necromancer] [F] Archsage Lilina by Redbean
[Anima] Forblaze - FE8 FE6 Version by SHYUTERz
[Anima] Aircalibur Rip by Mikey Seregon
[Anima] Exaccus FE8 by Dolkar
[Dark] Apocalypse Remade - FE8 by SHYUTERz
[Light] Aureola Remake SHYUTERz
[Other] Binding Blade Fire by SHYUTERz, IS
L95: Various Assets
SHYUTERz: Various Assets
HIROTO: Various Assets
RedBean: Various Assets
---
Now - let's not get anyone's hopes up. The project isn't finished per se; however, we are certainly on the home stretch.
I'd put a tentative estimate of an initial release before the year is up - with a potential additional update later on adding a few of the planned features I've cut along the way.
So, why publish this now?
To give the project (and myself) some closure. Honestly, I really hope that others continue with their remakes, ports and mods around the Binding Blade. This was mostly made as a fun personal tribute to the Fire Emblem game that holds a special place in my heart. I will release it eventually and, when it does, I hope those who wish to play will find as much joy in revisiting Elibe as I did in creating this project.