Hello There!
I see you've come to this page presumably to know what this hack is all about, so i suppose i shall begin on that.
Fire Emblem: The Art of War (which is not directly based on Sun Tzu's book, just FYI) is more or less the colmination of everything ive done in terms of fire emblem. And it started bassically the moment i first opened FEBuilder last May. And is mostly inspired by Genealogy of the Holy War, Radiant Dawn, a Military Simulator i spent a year as Staff in. And also just a bunch of ideas, attempts & experiments to break the traditional mold of a GBA hack, and this is done in a few ways.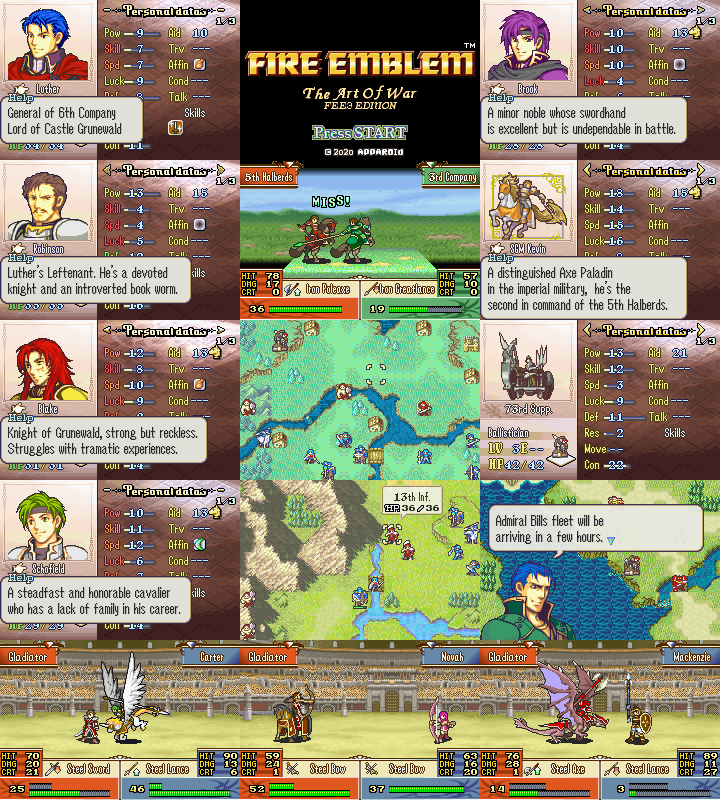 Story

This hack's narrative is based around the ebb and flow of tactics and battles in a war, rather than a more character orientated narrative. So you can expect the characters to be Radiant Dawn levels of meh, that being said I will attempt to do something with them. And due to the story not existing except for chapter 7 currently, most of it is told through the gameplay of the maps.
Features

-A Generally Upscaled Fire Emblem Experience
-7 Chapters (as of v2.5)
-Planned to be about 30 Chapters with a 7 Chapter Route Split
-Third Tier Classes
-20 Unique Classlines
-Branch Promotions & Dual Gender Variants (WIP)
-Resource Tradeoff System
-Reworked Class & Weapon Stats
-Minimal Use of Skills
-Removed Weight System (will be based off STR in the near future)
-Rebalanced Staves (you may find Recover useful)
-Shove/Canto+ on Every Unit
-Reworked Movement
-Multichapter Grand battles
-BOATS
-Ballisticians on both sides that can also counterattack each other
-Siege Tomes can counter attack each other
-Anima Triangle
-More Weapons & Tomes
-Custom Generic Palletes for both NPC & Enemies
-Named Enemy Divisions with Lore
-Mini Bosses on the bigger maps.
-An attempt to make Bows & Archers good without buffing their range.
-Bow Knights
-Map & Battle oriented narrative rather than a character one.
Weapons List

As of Alpha v2.5

----------Swords----------
Iron Sword
Iron Blade
Steel Sword
Steel Blade
Killing Edge
Killer Blade
Silver Sword
Brave Sword
Fire Sword
Ice Sword

----------Lances----------
Iron Lance
Iron Greatlance
Steel Lance
Steel Greatlance
Killer Lance
Killer Greatlance
Silver Lance
Silver Greatlance
Brave Lance
Brave Greatlance
Javelin
Spear

----------Axes----------
Iron Axe
Iron Poleaxe
Steel Axe
Steel Poleaxe
Killer Axe
Killer Poleaxe
Silver Axe
Silver Poleaxe
Brave Axe
Brave Poleaxe
Hand Axe
Tomahawk

----------Bows----------
Iron Bow
Iron Longbow
Steel Bow
Steel Longbow
Killer Bow
Killer Longbow
Silver Bow
Silver Longbow
Brave Bow
Brave Longbow

----------Fire Magic----------
Fire
Elfire
Arcfire
Bolganone
Meteor
Rexflame

----------Thunder Magic----------
Thunder
Elthunder
Arcthunder
Thoron
Bolting
Rexbolt

----------Wind Magic----------
Wind
Elwind
Arcwind
Tornado
Blizzard
Rexcalibur

----------Light Magic----------
Light
Elight
Thani
Shine
Banisher
Divine
Nosferatu
Seraphim
Purge
Rexaura

----------Dark Magic----------
Flux
Miasma
Verrine
Worm
Luna
Carreau
Waste
Fenrir
Eclipse
Rexvoid

----------Ballistae----------
Iron Ballista
Steel Ballista
Silver Ballista
Killer Ballista
Class List

As of Alpha v2.5 and subject to increase massively.

----------Lords----------

(M) Lord
(M) Great Lord
(M) Master Lord

(F) Lord
(F) Great Lord
(F) Master Lord

----------Melee Specialist Infantry----------

(U) Myrmidon
(U) Swordmaster
(U) Trueblade

(M) Soldier
(M) Halberdier
(M) Sentinel

(M) Brigand
(M) Pirate
(M) Berserker

(U) Archer
(U) Sniper
(U) Marksmen

----------Misc. Infantry----------

(M) Mercenary
(M) Hero
(M) Vanguard

(M) Thief
(M) Rogue
(M) Assassin

(U) Armored Knight
(U) Fortress Knight
(U) Marshall Knight

(M) Fighter
(M) Warrior
(M) Reaver

----------Magic Units----------

(F) Mage
(F) Sage
(F) Archsage

(F) Monk
(F) Bishop
(F) Saint

(F) Shaman
(F) Druid
(F) Necromancer

(F) Troubadour
(F) Mage Knight
(F) Valkyrie

----------Cavalry----------

(M) Sword Knight
(M) Sword Paladin
(M) Holy Knight

(M) Lance Knight
(M) Lance Paladin
(M) Duke Knight

(M) Axe Knight
(M) Axe Paladin
(M) Great Knight

(M) Bow Knight
(M) Bow Paladin
(M) Arch Knight

----------Fliers----------

(F) Pegasus Knight
(F) Falcon Knight
(F) Seraph Knight

(U) Wyvern Rider
(U) Wyvern Knight
(U) Wyvern Lord

----------Other----------
(U) Phantom

(M) Ballistician

(U) Corvette
(U) Frigate
(U) Warship
Due to this first release being attached to the FEE3 trailer that I made about a month ago.
The launch trailer from FEE3 2020 can be found here: https://www.youtube.com/watch?v=6hpmOijQZlA&list=PLumHgV7XNP68VDG2pBLwycmcb-owsxyOu&index=14
However do of course note that some of the polish that exists now is not featured there, such as some of the maps are unrefined or character colors are a bit off.
Alpha Credits (95% is from the repo)

Character Portraits:
-Attila
-Shin19

Magic Extends:
-Arch
-Blazer
-BwdYeti
-Golden Sun
-Jubby
-Mike_Seregon
-MisakaMitkoto
-Seal
-Teraspark

Battle Animations:
-Alfred Kamon
-Alusq
-Arch
-Aruka
-BatimaTheBat
-Black Mage
-BwdYeti
-Cipher Lee
-Cybaster
-DerTheVamporeon
-eCut
-Eldritch Abomination
-FE7if
-Flasuban
-FPZero
-Glenwing
-GoofyfanG56
-Greentea
-Iscaneus
-Jeorge_Reds
-Jj09
-Kenpuhu
-Leo_link
-Maiser6
-MeatofJustice
-Mercenary Lord
-Mikey Seregon
-MK404
-Moocavo
-MrNight
-Nuramon
-NYZGamer
-Pikmin1211
-Raspberry
-Red Bean
-Riku
-RobertFPY
-Shin19
-SHYUTERz
-Skitty
-Solum
-Spud
-St jack
-Swain
-Team SALVAGED
-Temp
-The Blind Archer
-Vilkalizer
-Waleed
-Wan

Map Sprites:
-Agro
-Alusq
-ArcaneEli
-Blademaster
-blood|||
-CamusZekeSirius
-Dei
-Dellhonne
-dondon151
-DerTheVaporeon
-FE7if
-flasuban
-Jiege
-L95
-ModelZXA
-MrGreen
-Nuramon
-Pikmin1211
-RobertFPY
-Shtick
-StreetHero
-team SALVAGED
-TLP
-Unknown
-Yikes!

Class Cards:
-Aruka
-DerTheVaporeon
-CamusZekeSirius
-flausban
-L95
-Nuramon
-Rasdel
-RobertFPY
-Shtick
-Team SALVAGED
-Unknown
-Yggdra

Music:
-Dolkar
-GratedShtick
-hypergammaspaces
-MrGreen3339
-Mycahel
-MysteriousDancer
-pandan
-SaXor_the_Nobody
-Scraiza
-Sme
-SurfingKyogre
-Swift Saturn
-Tristan_Hollow

Item Icons:
-LordGlenn
-Peerless
-Zane
-Zelix

If there happens to be any kind of crediting issue then feel free to contact me on discord so we can sort it out.
Patch Downloads:

Alpha v2.5: https://drive.google.com/file/d/1-HEuexE1_dHg58upOVdwqTpPr1R4W62V/view?usp=sharing
The next version is unfortunately going to take a lot longer than it originally would have due to using an outdated patch, and as a result the whole project needs to be rebuilt in a new rom. However this means that there will be even more classes and most likely characters in the next version, along with wrapping up the first act as it is intended to be instead of it ending at a cutdown version of the first of four maps.
However I do heavily encourage some opinions and critiques on both the maps and also the mechanic ideas introduced, as that would be greatly appreciated!