EMULATION: Start
---
Load save state (3):03/06/21
What if we live in a simulation? Being controled by superior beings that created us? What if we live… In a Fire Emblem game?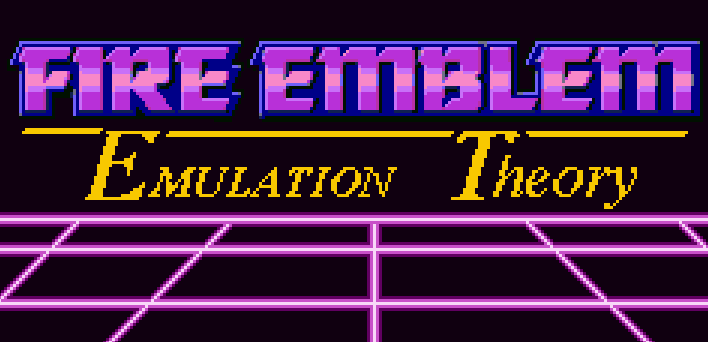 ---
Emulation Theory is a full FE8 hack rom created by me! It's more than 30 chapters long and tells the story of what happens when everything goes kind of horribly wrong, serving as a Crossover between Binding Blade, Blazing Sword and Sacred Stones.
"Emulation Theory"? What's that, a bad parody of an album?
This hack is about the story of Eirika, and her journey throughout the world… Wait, no, throughout the worlds of Magvel and Elibe, while she tries to save them for an impending doom that threatens to destroy everything she believed in.

Do not ask for context. Just… do not.
While the story is not meant to be taken seriously, it's not a full parody, falling in between a serious story and complete nonsense, with far less dialogues than your average game. Note that the hack already assumes you know the events of FE 6-8. Full on playthrough is not necessary, but there are lots of potential spoilers.
---
The new and the old: What to expect in this excuse of a game
Oh boy, can't wait to play with my favourite Lord, Roy. Hope he appears early in the game and isn't forgotten halfway through the story
More than 30 unique chapters! Almost all of them with brand new maps and events!
Rebalanced Units from all 3 GBA games! (Note: I said rebalanced, not balanced. I don't think the game's balanced at all)
New items, including a sword that can be used to heal
Skills! Because everyone loves them, of course. Every character will start with a personal skill, and then gain another one at level 20. They also got a class skill which can be learned at level 10 in that class. Yes, some characters can have up to 5 skills if you count canto. Enemies also get a class skill at level 10, but they only get that one (which they do not keep when promoting. Generic soldiers can only have 1 skill, while bosses from lvl 10+ will get two)
Disclaimer: Some of the units' animation palette are broken, different than the original and some battle animations are straight up wrong, like the Female Ranger's. This will be fixed soon.
---
Credit to the nice people that made some of the assets this hack uses, you made this game prettier
Big thank you to:
The Blind Archer, for the Axe Wyvern Lord and Armor Knight bow animation
Alusq, for the Improved Soldier animation
eCut and Kitty of Time, for the Axe Cavalier animation.
Venno and ZoramineFae, for the Updated Village tileset.
Eldritch Abomination, for the FE6 Dragon sprite.
Pushwall and TBA, for the Bow General animation.
But enough talking, test things by yourself.
Any advices, or critiques? Please let me know! You can contact me via Discord (recursivebow) Or here, in the comments/DM (RecursiveBow, formerly known as svya1029).
Thank you for reading! And see you next time!
---
I'm not a native English speaker, so you'll find some grammatical errors, wording issues and even a confusing plot.
Expect glitches throughout the whole game, specially in the most event-based chapters. Report said bugs to me.
Right now, you can only play this on Normal mode, and I do not know if it's a hard or an easy hack. Maybe I'll add more difficulties.