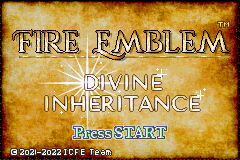 Welcome to Divine Inheritance, an FE8 hack the ICFE Team has been working on for about a few years now. We're finally ready to show off some of the work we've done, we hope you enjoy it, and of course, be sure to post any feedback you have.
FEE3 Trailer
Nov 2021
Features:
Unique Cast, Portraits, Palettes, Story, and Maps

Each Unit Gets Their Own Personal Skill

Base Conversations like the Tellius Games (Accessed Through the Supports Menu in Battle Prep)

Personal Weapons

New Items Known as Stat Runes that Alter your Stats when Held
Download Link
Screenshots: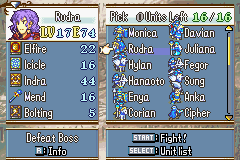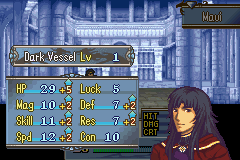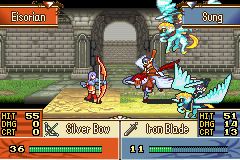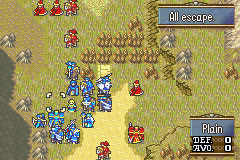 Credits

ICFE Team

Project Lead - Leif

Writers - Splat, Elise, Sung, Emblan, Leif, Stitch

Maps - Bones, Leif

Sprites and Animations - Stitch

Playtesters - Despy, Bers, Rikki, Splat, Elise, Sung, Emblan, Leif, Stitch, Bones, Forte

Special Thanks to Deliwood

PATCHES
7743, Argo, Brendor, Leonarth, aera, Zeta, circleseverywhere, Stan, Kaito, Kenpuku, Tequila, Hextator, HyperGammaSpaces, Snakey1, Midori, ZaneAvernathy, ipatix, Sme, Scraiza, Alusq

SKILLSYSTEMS
Circleseverywhere
Monkeybard & Black Mage for most of the skill icons; Blaze for Stances skill icons
Tequila, Rossendale, StanH, Leonarth, Teraspark, sd9k, Kao, blademaster, Snakey1 for skills
Primefusion for the test map

MUSIC
ZoramineFae, SurfingKyogre, Mycahel, Sme, A_Reliable_Chair, MrGreen3339, RandomWizard

SPLICING CREDITS
NickT, Blueey, Frigid, Glaceo, BatimaTheBat, Der, Blaze, Card, Lenh, Obsidian, Atey, SomeDenseGuy, Feier, BuskHusker, Sqrtpi

ICON CREDITS
L95, Jeorge_Reds, MeatOfJustice

ANIMATION CREDITS
MK404

SPECIAL THANKS
Snek
7743
Pikmin1211
Leo_Link

If you believe we may have used your work without crediting you, please contact me immediately and I will add you to the credits.

Credits
About

Origins

The game originally started as a passion project a whole server of friends contributed to, the idea being that each one of us would create a character for the game. This is why some characters bear the same name as some of our team members.

Plot
Our story begins in the island kingdom of Mahina. While awaiting her Father's return from his pilgrimage, the Princess Naomi finds herself in danger when the castle itself suddenly comes under attack. Fearing for her father's safety, she leaves the castle with a group of trusted knights to find his whereabouts and perhaps bring an end to the revolt now occurring in Mahina.
Current Progress

Divine Inheritance is planned to be comprised of 4 arcs, the first of which comprises this playable build.

Arc 1 Status: Complete!

Arc 2 Status: All maps finished, currently fixing bugs and adjusting some story details.

Arc 3 Status: Nothing

Arc 4 Status: Nada
Known Bugs

There is sometimes a bug where units counter foes they do not have the range to counter.
Skipping a talk conversation may cause the screen to go black until a button is pressed.
Units may not display atk, hit, and other stats in menus until they go into combat.
Base convos display even if you do not have the required units.
Rylor's personal skill does not immediately update the combat window to reflect it's activation.
Fighting the Chapter 3 Boss may glitch out the screen.